WAER celebrates Jazz Appreciation Month with special programming, concert featuring Gretchen Parlato
In honor of Jazz Appreciation Month (JAM), Syracuse University public radio station WAER-FM throughout April will air special programming celebrating jazz as an American art form. The celebration will culminate in a public concert featuring contemporary jazz singer Gretchen Parlato on Saturday, April 24, at 7 p.m. at the Palace Theatre, 2384 James St., Syracuse.
The JAM festivities are designed to increase awareness of the impact of jazz on America's history and culture. Congress officially established April as Jazz Appreciation Month in 2003 in coordination with the Smithsonian's National Museum of American History. This is the second year that WAER will present a public concert in connection with the month-long celebration. 
Tickets are $10 for SU students, faculty and staff, and $15 for the general public. Tickets are available by calling WAER at 443-4834 or by visiting the WAER website. Funding for the concert is made possible by grants from AmeriCU Services LLC and National Grid.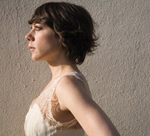 Parlato is known for her unique improvisational style, fusing Brazilian and African influences with modern jazz. She attended the LA County High School for the Arts and later graduated from UCLA with a bachelor's degree in ethnomusicology and then attended the Thelonious Monk Institute of Jazz Performance. In 2004, she won the prestigious Thelonious Monk International Jazz Vocals Competition, which allowed her and her band to tour internationally alongside such renowned musicians as Wayne Shorter, Oscar Castro-Neves, Gal Costa, Ivan Lins and Dianne Reeves. 
In 2009, her debut album, "In a Dream," was released on the ObligSound label, incorporating her own compositions and classic material from Shorter, Duke Ellington, Herbie Hancock and Stevie Wonder.
Her recording credits include Terence Blanchard's 2005 Grammy-nominated album, "Flow"; Kenny Barron's "The Traveler"; and Esperanza Spalding's 2008 self-titled album. She was recently featured in The Documentary Channel's four-part series "Icons Among Us: Jazz in the Present Tense" and in the special "Rising Stars" on Japan's NHK-TV.
For more information on WAER's special on-air programs for Jazz Appreciation Month, contact General Manager Joe Lee at 443-5239 or jblee01@syr.edu.