STEM
Syracuse iSchool hosts 'Girls are I.T.' event to introduce local Girl Scouts to information technology
The Syracuse University School of Information Studies (iSchool) on March 6 hosted 39 Girl Scouts from communities across Central New York, including Cato, Clinton, DeWitt,  East Syracuse, Jamesville, Rome, Skaneateles and Syracuse. The Girl Scouts, who ranged in age from 6th-10th grade, participated in the iSchool's first-ever "Girls are I.T." event.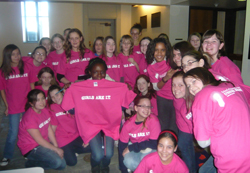 The daylong event was designed to introduce the girls to the field of information technology. According to the National Center for Women & Information Technology (NCWIT), only 25 percent of professional IT-related occupations in the 2008 U.S. workforce were held by women. Changing the gender imbalance of the IT field has become a nationwide concern in recent years. National education initiatives have developed to get young girls more interested in the science, technology, engineering and math (STEM) discplines.
Both the Girl Scouts and the iSchool want to see more girls succeed in the information technology field. "It's part of our mission to excite girls about technology," says Julie Walas, recruiting specialist at the iSchool. "It's also one of my personal missions to recruit an incoming class that has a diverse mix of strong students." Similarly, one of the Girl Scouts' new goals is to provide members with more technology education.
The partnership between the two organizations developed months ago when the local Girl Scouts approached Walas to ask for brochures about technology programs at Syracuse University. Walas and the Girl Scouts eventually developed a relationship and came up with the idea for a one-day hands-on program to engage Girl Scouts in information technology.
At the "Girls are I.T." event, iSchool staff and students volunteered to lead the Girl Scouts in 40-minute sessions. Topics of the sessions ranged from graphic design to social media to Internet research. The sessions and presenters included:
• "Creating a YouTube Sensation": How to create , produce, upload and edit interesting digital video content (presented by Jamey Benninger '10, Eric Cleckner '10 and Dave Chenell '10);
• "An 'i' for Design: What Makes a Good Web Site?": Tactics in Web design and development (presented by Mike Clarke, iSchool web producer);
• "Becoming a Research Diva": How to sharpen your Internet detective skills to make the best of your next big project (presented by Amanda Baker G'10, Sara Hills G'10, Leslie Tabor G'10 and Sarah Spanburgh G'10);
• "Using Social Media to Your Advantage": How to involve yourself safely in the evolving world of social media (presented by Anthony Rotolo '02, G'06, iSchool adjunct professor and social media strategist);
• "NO Information ALLOWED!": A debate about restricting Internet information (presented by Andrea Phelps G'11 and Jessie Ammons G'11);
• "And Don't Forget It": What makes a listener remember what you're saying? Tactics for presenting information effectively (presented by Jessica Smith '11 and Johanna Olivares '10, executive board members of WIT); and
• "Sports Informatics": How to call the play-by-play of a streaming game like a real reporter. Tips for live video streaming and information in accurate reporting (presented by iSchool students Alec Truit '10 and Maxine Shaw '10, who work at SIDEARM Sports).
The Girl Scouts attended two sessions in the morning and then ate lunch. During lunch, girls had the opportunity to talk with female iSchool students about their college and graduate experiences. After lunch, they attended two more sessions. Each Girl Scout also received a pink T-shirt that read "Girls are I.T." on the front and had the iSchool logo on the back.
"The event was a great way to help girls learn strong study habits and to get experience teaching information literacy," says presenter Tabor, who is also a library and information science graduate student at the iSchool.
"The girls were definitely engaged and it was very exciting to watch," Walas says. "We wanted to raise awareness of all of the different things that you can study in college and turn into a career. We wanted to show them that technology can be innovative and fun, and they shouldn't be scared of technology or the stereotypes that come with it."
"I think this program was a definite success!" says Kim Taylor, program manager for the Girl Scouts of NYPENN Pathways. "We are definitely going to hold it next year and make it an annual signature event."
In addition to holding the event again next year, Walas adds, "We'll try and see where else we can collaborate [with the Girl Scouts] because this event was such a great success."