Arts & Culture
Legacy of civil rights activist George Wiley honored at 12th annual Sojourner Storytelling Conference March 24-25
Syracuse University's 12th annual Sojourner Storytelling Conference will honor an SU organic chemistry professor whose scientific and teaching accomplishments were eclipsed only by his political activism and dedication to racial justice and welfare rights.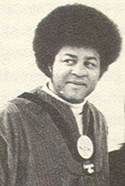 The legacy of the late George Wiley, who began teaching at SU in 1960 and later worked as a local and national community organizer until his death in 1973, inspired organizers to select the theme "The Activist Story" for the conference, which will be held March 24-25 with a series of events that includes two keynote speakers, a graduate seminar on activism and engagement, and a community activism workshop.
"Dr. Wiley was an amazing figure in the history of Syracuse and the entire nation," says Kendall Phillips, associate dean of research and graduate studies in the College of Visual and Performing Arts (VPA) and one of the conference organizers. "His work for racial equality and economic justice made a major impact in the 1960s and '70s, and his legacy deserves to be remembered and studied."
"Dr. Wiley was a mammoth figure in chemistry, civil rights and welfare rights activism," says Herbert Ruffin, assistant professor of African American studies in SU's College of Arts and Sciences and a conference organizer. "His leadership provides us with direct links to the legacy of Sojourner Truth and the thousands of unknown freedom fighters in 19th-century America. During this time of social, political and economic crisis, this type of event, which also features several workshops on grassroots mobilization in civil rights and welfare rights, is timely in extending Dr. Wiley's legacy into modern Syracuse and this 21st century."
On Wednesday, March 24, at 7 p.m., social activists Marian Kramer, co-president of the National Welfare Rights Union (NWRU), and Henry Shelton, coordinator and organizer of the George Wiley Center in Rhode Island, will deliver keynote addresses. This event, which is free and open to the public, will be held in Room 500 in the Hall of Languages and feature a screening of "The Legacy of George Wiley," a film produced by SU students. Paid parking is available for $3.50 in the Irving Garage.
The conference will continue on Thursday, March 25, with two invitation-only events. Kramer and Shelton will give a seminar for SU graduate students on activism and engagement related to social justice issues. The day will culminate with the George Wiley Memorial Community Activism Workshop, which is designed to create a space in which community activists and SU faculty can interact about community needs and potential projects. Issues discussed will focus on culture, health, the environment and welfare/wealth.
Wiley was born in New Jersey and raised in Rhode Island. He earned an undergraduate degree at the University of Rhode Island and a Ph.D. in chemistry at Cornell University. He taught at the University of California, Berkeley, before coming to SU. While in Syracuse he founded the local chapter of the Congress of Racial Equality (CORE), a civil rights group. He left SU and academia in 1964 to serve as CORE's associate national director and work as a full-time community organizer.
Wiley went on to establish the Poverty/Rights Action Center in Washington, D.C., and the National Welfare Rights Organization (NWRO), the predecessor to today's NWRU. He left the NWRO in 1972 to form the Movement for Economic Justice. He died in a boating accident in August 1973.
Shelton founded the George Wiley Center in Pawtucket, R.I., in 1981. The center organizes members of the low-income community to advocate for systematic changes aimed at alleviating problems associated with poverty. The center also coordinates the Rhode Island Campaign to Eliminate Childhood Poverty. Shelton was key in the founding of the Fund for Community in Rhode Island, along with a number of affiliated organizations.
A longtime activist for civil rights, Kramer has made a commitment to the advocacy of economic justice for poor women and their children. A dedicated activist in the welfare rights movement since 1966, she is both founder and president of the NWRU. In 1989, Kramer helped to form the National Up and Out of Poverty NOW Coalition and now serves as its co-president. She has organized lower-income people and welfare recipients to challenge public assistance policies and was an outspoken crusader against the 1996 welfare repeal bill. She was also one of the founders of the League of Revolutionary Black Workers, an early workers' rights organization. She also served as a full-time organizer for CORE in Louisiana during the 1960s as well as for the West Central Organization in Detroit.
The Sojourner Storytelling Conference is sponsored by the Department of Communication and Rhetorical Studies in VPA, the Department of African American Studies in the College of Arts and Sciences and the Program for the Advancement of Research on Conflict and Collaboration in SU's Maxwell School. It is supported with a grant from Imagining America.
For more information, contact Phillips at (315) 443-2308.