Campus & Community
University to celebrate Asian-Pacific American Heritage Month
Syracuse University's Office of Multicultural Affairs is planning to kick off Asian-Pacific American (APA) Heritage Month in a big way on Thursday, April 1, with a reception in Suite 105 of the Hildegarde and J. Myer Schine Student Center. From noon-1 p.m., members of the University community and the general public are invited to stop by, network and enjoy free food catered by local Thai restaurant AppeTHAIzing.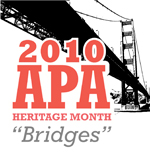 APA Heritage month was created to pay tribute to the generations of Asian and Pacific Islanders who have enriched America's history and are instrumental in its future success. Student organizations on campus–Asian Students in America (ASIA.), South Asian Students Association (SASA), Korean American Student Association (KASA), Kappa Phi Lambda Sorority Incorporated and Nu Alpha Phi–will be hosting events to help educate the community about Asian-Pacific American identity, history, culture and issues. These events will defy the passive, rigid and conservative Asian stereotypes, and instead will take a contemporary stance on culture and social issues facing Asian-Pacific Islanders in America.
This year's theme is "Bridges," in recognition of the social and cultural connections people make, the physical bridges that bring people together, and the bridges that must be built for a better future. These ties have proven especially significant for SU as the University Senate recently approved the Asian/Asian American Studies Minor.
The effort to create the minor started shortly after the events of April 11, 1997, when the SU community witnessed racism close up. Six Asian or Asian American students and one white student were denied service and assaulted in the parking lot of the Denny's Restaurant at 2863 Erie Blvd E. This event sparked a movement for SU to develop an Asian-interested studies program. This year's APA Heritage month will be a remembrance of the "Denny's Incident" and will mark a celebration of the AAA program's passing.
APA Heritage Month commemorative speaker C.N. Le, founder of Asian-Nation.org, a popular Asian American blog, will address such struggles of Asian-Pacific Americans as well as their accomplishments in U.S. history in a presentation on April 16.
"We want students to think of APA Heritage month as a new way to celebrate diversity," says Cristina Balitaan, ASIA public relations chair. "It's a great way for students to stop thinking that these events are only for Asians or for people interested in the Asian culture. These events are open to everybody and anybody at Syracuse University and within the Syracuse community to learn about how Asian-Pacific identity and culture is interwoven in the threadwork of American history."
A full events calendar for APA Heritage Month will be posted in Schine Student Center. The forums, speakers and performances are open to the public. For more information, contact ASIA External Vice President Jonathan Chan at jchan04@syr.edu.