Business & Economy
A&S student a finalist in Inc. magazine's 'College Start-Up' contest with his 'bed transforming pillow'
Ryan Dickerson, a junior in Syracuse University's College of Arts and Sciences and creator of The Rylaxer—a patented "bed transforming pillow"—is a finalist in Inc. magazine's "America's Coolest College Start-Ups" online contest. The winner will be selected by popular vote. Individuals can vote for Dickerson's product, which is manufactured locally and targeted at college students nationwide, by visiting http://www.inc.com/college/2010/index.html.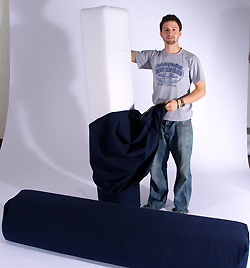 The Rylaxer grew out of a partnership with the Couri Hatchery, a student-centered business incubator in SU's Whitman School of Management.
"I am really honored to be part of this contest," says Dickerson, a 20-year-old economics major. The South Carolina resident envisioned The Rylaxer two years ago, when he found himself cramped into a small residence hall room that fit little more than a bed and desk. "I felt my space could be better utilized by turning my bed into a couch during the daytime," he says. "I soon came up with The Rylaxer, an ergonomic foam pillow that sits on your bed, turning it into a couch."
Dickerson makes two types of Rylaxers: the six-foot "full back" ($160), designed mainly for twin beds, and the three-foot "half back" ($85), used at the head or foot of a bed, as well as by itself on the floor and against the wall. The key to both items, says Dickerson, is a lumbar support system that conforms to one's back regardless of his or her size. "The Rylaxer is the ultimate bed-transforming, movie-watching pillow that makes you the coolest kid in the dorm," he says. "Plus, it's good for your back."
Dickerson is quick to point out that The Rylaxer uses safe, durable, American-made materials. The product is also easy to store. "When you're done using The Rylaxer, you can stand it up on end, thereby storing your couch within a square-foot of floor space," he says. "This is great if you don't have a lot of room."
The Rylaxer is available exclusively at http://rylaxing.com. The site also offers Rylaxer covers in a variety of prints and colors that can be custom-embroidered. "We can even print your name on it," says Dickerson, who is exploring licensing opportunities with various academic, athletic and Greek organizations.
Dickerson didn't find out he was in the start-up contest until Inc. magazine contacted him in January. "They got in touch with me via the Couri Hatchery, did a photo shoot and, three weeks later, published an article on me," he recalls. "Everything just sort of happened."
Thomas Kruczek, executive director of the Falcone Center for Entrepreneurship (in which the Couri Hatchery is based), is Dickerson's campus mentor. "He has an answer for everything," says Kruczek, recalling their first meeting, at which Dickerson arrived with a business plan in hand. "Ryan is a great young man whose passion and drive will take him far."
Although Kruczek is optimistic about The Rylaxer, he says that its success hinges on making the product lighter and cheaper. "Entrepreneurship is all about finding solutions to problems. Ryan knows how to get answers by asking the right questions," he says.
Dickerson credits The Rylaxer's success to his liberal arts training and to the Couri Hatchery, which provides an array of product development services for students. "My arts and sciences education allowed me the freedom to explore subjects that truly interested me," says Dickerson, who has taken SU courses throughout the United States, China and Italy. "All of these experiences, plus the opportunity to work with Tom Kruczek, are preparing me for the world after college."
Kruczek appreciates the compliment, adding that entrepreneurship should not be limited to business majors. "It's great when we get people like Ryan from other schools and colleges who bring different skill sets to the table. That's when things get really interesting," he says.
The Couri Hatchery promotes, stimulates and supports business development among entrepreneurial students on campus. The center is named for John Couri '63, an Arts and Sciences alumnus who serves as co-founder of Duty Free International and president of the Couri Foundation. Businesses that have "hatched" from the Couri Hatchery include Funk 'n Waffles, Wholesale Jewelry Liquidators and BrandYourself.com.