Campus & Community
International vocal ensemble Amarcord performs at Syracuse University March 23
Amarcord, one of the leading international vocal ensembles performing today, will take to the stage in Syracuse on Tuesday, March 23, in Syracuse University's Hendricks Chapel.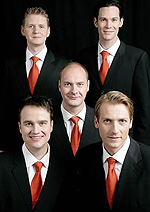 The concert, sponsored by the Malmgren Concert Series and the Pulse Performing Arts Series, begins at 8 p.m. and is free and open to the public. Free parking is available in the Irving Garage.
The ensemble comprises tenors Wolfram Lattke and Martin Lattke; baritone Frank Ozimek; and basses Daniel Knauft and Holger Krause. They will perform a varied program, including "Sérénade d'hiver" by Camille Saint-Saëns; selections from "Sechs Lieder für vierstimmigen Männerchor" by Robert Schumann; "Čtveřice mužskych sboru" by Leos Janacek; selections from the "Greek Anthology op. 45" by Edward Elgar; and selected folk songs.
Born in 1992 from the celebrated tradition of the St. Thomas Boys Choir in Leipzig, Germany, Amarcord performs from all periods of Western music, from the Middle Ages to modern compositions, plain-chant to madrigals, to romantic works and a cappella arrangements of well-known songs.
The ensemble appears regularly at major international music festivals and tours extensively throughout Europe, North America, Southeast Asia, Australia and the Middle East, and has won several prestigious international music competitions.
To celebrate the art of a cappella singing, Amarcord founded "a cappella," an annual international festival of unaccompanied vocal music in Leipzig. Now in its 10th season, "a cappella" presents a wide range of genres and styles.
The Syracuse concert is part of the Malmgren Concert Series at Hendricks Chapel. The series was made possible by a generous gift to Hendricks Chapel from alumna Esther Malmgren '42 in 1991. The free concerts, held throughout the year, feature a wide variety of music.
Pulse, presented by SU's Division of Student Affairs, provides SU undergraduates and, in turn, the Central New York community with out-of-classroom opportunities to attend and participate in programs, performances, exhibitions and events in the performing and visual arts. It is a model program, recognized for quality, diversity, innovation and collaboration, while it celebrates and expands the cultural climate of Syracuse University.The Pulse series seeks to raise the caliber of cultural programming while increasing the number of participating students, and programs the best offerings of local arts organizations with performances of internationally renowned visiting artists.
For more information on the concert, contact Hendricks Chapel at (315) 443-2901.