Marrone named honorary chair of 2010 Vera House White Ribbon Campaign
The Vera House Foundation announced Monday, Feb. 1, that Syracuse University Head Football Coach Doug Marrone is honorary chair of the 16th Annual White Ribbon Campaign April 9–18.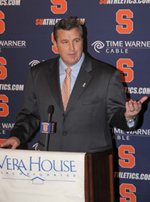 "Vera House and its White Ribbon Campaign are important in our community," Marrone says. "A strong support system is essential for all of us. Vera House provides that for women and children at a critical point in their lives."
Now in its 16th year, the annual White Ribbon Campaign is led by concerned men who invite and encourage all members of the community to wear a ribbon during the 10-day campaign and join them in raising awareness and funds to stop domestic and sexual violence. Wearing a white ribbon is a personal statement to never support, commit or remain silent about abuse.
The White Ribbon Campaign this year is anticipated to raise more than $65,000 for Vera House education and awareness programs and services.
"The funds raised by the White Ribbon Campaign are critical for our programs and services, but even more important is the message of this campaign," says Vera House Executive Director Randi Bregman. "Ending domestic and sexual violence requires each of us to do our part to help change a community standard that has for too long tolerated violence and abuse. With Coach Marrone's leadership, we hope to bring the important message of the White Ribbon Campaign to the forefront of our community."
For information on how to participate, contact Chris Benton, director of communications & special events, at (315) 425-0818, ext. 248 or cbenton@verahouse.org.  The 2010 White Ribbon Campaign is made possible, in part, through the generosity of sponsors M&T Bank, Kinney Drugs Foundation, Time Warner Cable, Crouse Hospital, Wegmans and Hancock & Estabrook LLP.
Vera House works to end domestic and sexual violence in our community.  The agency provides a 24-hour crisis, support and information line, and emergency shelter to ensure that families are safe from violence. Actively engaged in education and training in the community, Vera House offers counseling and advocacy services for victims of domestic violence and sexual assault as well as youth education programs.