Media, Law & Policy
Syracuse University student duo competing for chance to report at 82nd Academy Awards
Two Syracuse University students are among 10 teams of college journalists from across the country vying for a trip to Hollywood and an opportunity to report from the red carpet and backstage at the 82nd Academy Awards. The public, through online votes, will decide if they're going to get there.

Eeshé White, a junior African American studies major in SU's College of Arts and Sciences, and Patrick House, a graduate student in the Military Motion Media program in the S.I. Newhouse School of Public Communications, are semifinalists in the 2010 Oscar Correspondent Contest sponsored by the Academy of Motion Picture Arts and Sciences and mtvU, MTV's 24-hour college network.
"My heart is doing back flips right now," White says. "Dreams do come true when passion meets opportunity. It would be an honor and a pivotal accomplishment in my career to be awarded the grand prize."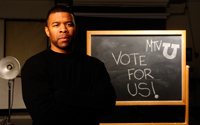 "I never thought this opportunity would fall in my lap," says House. "I'm speechless. Just making it in the top 10 is amazing to me."
Other semifinalist teams are from Chapman University, Emerson College (two teams), Florida A&M, Middle Tennessee State, Rider University, Texas State University-San Marcos, the University of South Dakota-Vermillion and the University of Texas at Austin.
Three teams will be selected as finalists, determined by online voting through 5 p.m. on Feb. 10 at http://oscars.mtvU.com, which features the application video of each team accompanied by a "Vote" button. A maximum of one vote per day is allowed. To go directly to the White/House video, see http://www.mtvu.com/on-campus/contests-sweepstakes/oscars/eeshe-white-and-patrick-house/.
The three teams with the most online votes will advance to the finals to compete for the grand prize. In addition, all three teams will be flown to Los Angeles to cover the Academy Awards pre-events, including the Animated Feature Symposium, the Foreign Language Film Award media opportunity, the Makeup Artist and Hairstylist Symposium, and the Governors Ball preview.
Online voting for the grand prize among the three finalist teams will begin Feb. 16 and continue through March 2; the grand prize-winning team will be revealed on Saturday, March 6, at an Academy press conference. Along with the pre-events, the grand prize-winning correspondent and videographer will be awarded a spot Sunday night on the red carpet for the Academy Award arrivals plus credentials for access to backstage press rooms; the team's coverage will air on MTV News and mtvU. The two other teams will receive bleacher seats along the red carpet and admission to an Oscar viewing party.
White learned of the contest in December, during finals week, in an e-mail from a friend. Then ensued the scramble to turn around a competitive submission on a short deadline. Another friend and fellow student, Vernon Young Jr., introduced her to House, who would take on the dual role of videographer and editor. The pair shot the raw footage in one day, with assistance from Young, who snapped still photos, and White's mother, who drove to Syracuse from New Jersey to help with wardrobe, hair and makeup. White and House edited the finished product the following day and sent in their video the next day.
White is no stranger to cameras and microphones. A resident of Piscataway, N.J., she is a reporter and anchor for SU's Citrus TV, has experience as an on-air talent for student radio station Z89 (WJPZ), and currently serves on the executive board of The Black Artist League. Following her high school graduation in 2007, White landed a summer internship in the promotion department at New York's Hot 97, working primarily on the street team assisting with inner-city events.
In summer 2008, she returned to Hot 97, in the programming department working with the hosts and occasionally contributing on air. At the same time, she balanced a second internship, at CNBC, thanks to an Emma Bowen Scholarship, the benefits of which included a four-year contract with the cable network.
Last summer, she worked on "The Big Idea with Donny Deutsch," both in the office and on set. She also worked in CNBC's long-form department on a documentary, "Coca-Cola: The Real Story Behind the Real Thing," having the opportunity to produce a field shoot in Times Square.
"During my time at CNBC, on lunch breaks and after hours, I'd practice on the teleprompter and tiptoe through the back ways of the studio just to watch the anchors at work," she says. She also pitched her boss on the idea of putting together a behind-the-scenes video on the inner workings of CNBC. She was allotted a videographer and began doing interviews of CNBC staffers. Her finished product, titled "What's Your Recipe for Success?" was presented in a staff meeting and uploaded to YouTube.
After earning her bachelor's degree, White plans to attend graduate school to pursue a master's degree in either television/radio/film or broadcast journalism, with SU's Newhouse School as her top prospect.
The second half of the Oscar correspondent team, House is a skilled videographer, serving as a U.S. Navy broadcast journalist. Originally from Chicago, he was stationed in San Diego before arriving in Syracuse to begin his graduate studies. He has documented hundreds of military exercises and operations, most notably Operation Enduring Freedom in Afghanistan and Pacific Partnership, a humanitarian mission in Southeast Asia. After graduation, he will proceed to his next duty station in Washington, D.C.
"I thought this would be a great opportunity to flex my creative muscles," he says of the Academy competition. "A chance to be on the red carpet at the Oscars is an opportunity I couldn't pass up. The experience would be invaluable."
The 10 semifinalist teams in the Oscar Correspondent Contest were selected by the Academy and mtvU from videos submitted for the competition. The entries were based on originality, creativity and how compelling the video was overall. The competition was open to teams of two college students, one correspondent and one videographer, residing in the United States.