Campus & Community
Classical duo mark Women's History Month with album, recitals devoted to author Margaret Atwood
Soprano Eileen Strempel and pianist Sylvie Beaudette—also known as the Strempel-Beaudette Duo—are marking the 30th anniversary of the National Women's History Project with the release of "(In) Habitation," an album of musical settings of Margaret Atwood poetry. The release of their CD is timed for Women's History Month, which they are further celebrating with two recitals of women's music in March.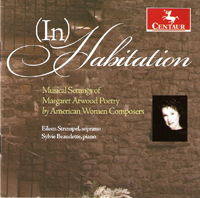 Strempel holds two appointments at Syracuse University: associate dean of the Graduate School and associate professor of art and music histories in The College of Arts and Sciences. Beaudette is a faculty member of The Eastman School of Music at the University of Rochester, where she serves as assistant professor of chamber music and accompanying and as a part-time vocal and instrumental coach.
"(In) Habitation" is being released by Centaur Records, one of the nation's oldest and largest independent classical record companies. The CD features recent commissions by six leading female composers: Libby Larsen, Tania León, Lori Laitman, Judith Cloud, Amanda Harberg and Elisenda Fábregas. The album is available for purchase at Amazon.com and centaurrecords.com on Tuesday, March 2.
In support of the album, Strempel and Beaudette are presenting two public recitals. The first is on Wednesday, March 24, at 12:15 p.m. in the Sproul Atrium-Miller Center of the Eastman School of Music (26 Gibbs St., Rochester), as part of the 2010 Women in Music Festival. The event is free and open to the public. It is followed by an official CD release party, sponsored by the Society for New Music, on Sunday, March 28, at 2:30 p.m. in Hosmer Auditorium of the Everson Museum of Art (401 Harrison St., Syracuse). Tickets are $15 for adults and $12 for students and seniors. For more information about both concerts, call (315) 443-3403.
"(In) Habitation" grew out of the Atwood Project, which began in spring 2004, when the distinguished Canadian author served a visiting professorship in SU's College of Arts and Sciences. In preparation for the visit, Strempel noticed a dearth of artistic settings of Atwood's work. "Although her novel 'The Handmaiden's Tale' had been transformed into an opera, I was surprised to find few song cycles based on her many poems," says the soprano. "Her poetry, in particular, has been described as 'patterns of words and ideas.' The idea of commissioning people to set music to her poetry, with its powerful combination of sensuality, drama and power, seemed like an exciting proposition to me."
With the author's blessing, Strempel commissioned the aforementioned composers to create settings of Atwood poetry. The premiere took place three years later in New York City, with four of the composers in attendance. Since then, the Strempel-Beaudette Duo have given multiple performances of the pieces throughout the country, often with at least one composer in attendance.
"I find [Atwood's poetry] feminine in a strong way—feminine and sexy and powerful," says Cloud, also an award-winning mezzo-soprano.
Laitman agrees: "Probably the most exciting aspect of translating a poem into music is the ability to warp time in different ways, affecting how the poem is perceived."
Underwriting for the commissions, performances and recording—which collectively came to be known as the Atwood Project—was made possible by the Howard Hanson Fund at the Eastman School and by the Dean's Fund in SU's College of Arts and Sciences. Additional support was provided by the Society for New Music and The Commission Project, national composer organizations based in Syracuse and Rochester, respectively.
"The Atwood Project is a prime example of Scholarship in Action," says Strempel, referring to SU's institutional vision. "That we commissioned 19 songs in a two-year span speaks to the enthusiasm and dedication of the many participants."
The album features all 19 commissions: "Moments of Change," with five settings by Fábregas; "Atwood Songs," with five settings by León; "Night Dreams," with four settings by Cloud; "Orange Afternoon Lover," with four settings by Laitman; "Memory" from "Midnight Songs" by Harberg; and "There Are So Many Things I Want You to Have" from "Take" by Larsen.
Strempel says that she added the prefix "(In)" to the album title to imply that everyone—from composer to performer to listener—needs to "inhabit" an Atwood poem to fully grasp its meaning. The title also seems to evoke the semi-private space of the musical salon. "Reading Atwood requires an engaged intellect. Her enthusiasm for words suffuses her poetry," Strempel says.
Atwood is the author of more than 35 volumes of poetry, children's literature, fiction and non-fiction, and is perhaps best known for her novels, including "The Edible Woman" (1970), "The Handmaid's Tale" (1983), "The Robber Bride" (1994), "Alias Grace" (1996), and "The Blind Assassin" (2000), which won the prestigious Booker Prize. Her work has been published in more than 40 languages, including Farsi, Japanese, Turkish, Finnish, Korean, Icelandic and Estonian. The Toronto resident is the recipient of many honorary doctorates, and serves as fellow of the Royal Society of Canada, Companion of the Order of Canada and honorary member of the American Academy of Arts and Sciences.
The Strempel-Beaudette Duo have been ardent champions of music by female composers since they started performaning together in 1998. They have given close to a hundred performances throughout the United States and Canada, and have regularly appeared at Eastman's Women in Music Festival, of which Beaudette is founder and artistic director. The duo have two other albums to their credit: "love lies bleeding" (Centaur, 2004), featuring new music by Larsen, and "With All My Soul" (Oasis, 2000), highlighting previously unrecorded works by 19th-century French composer Marie de Grandval.
Strempel is an acclaimed scholar and singer whose expertise involves the songs of women composers. She is a Presidential Scholar of the Arts who has won numerous competitions throughout the world, has performed with the New York Philharmonic and the Bolshoi Opera, and has appeared as soloist in Bach's B-Minor Mass in New York's Avery Fisher Hall. Her recordings include "Voices of Innocence" (Centaur, 2005) and the "Historical Anthology of Music by Women" (Indiana University Press, 1987). Her articles and essays regularly appear in The Classical Singer, The Journal of Singing, The Journal of the International Association for Women in Music and American Music Teacher.
The Canadian-born Beaudette has appeared as a piano recitalist, soloist, chamber player and an accompanist throughout the United States, Canada and Switzerland. Her recordings include "Fabulous Femmes" (Centaur, 2000) and "Multiplicities" with clarinetist Richard Nunemaker (Arizona University Recordings, 1999). The former SU faculty member has lectured in Switzerland and Finland, and has worked as a diction coach for the Houston Grand Opera.
"We are pleased to celebrate Women's History Month with this CD and with these performances," Strempel says. "Despite the progress of women composers, they still account for less than 5 percent of the concert music programmed around the globe. Bringing iconic artists into our classrooms as role models encourages important conversation in this arena."
The Syracuse resident applauds the efforts of the National Women's History Project, which champions the diverse and historic accomplishments of women by providing information, educational materials and programs for the public. "The project's theme this year is 'Writing Women Back Into History,' which is something I try to do daily as a teacher, performer and scholar," says Strempel.
Larsen is arguably the best known composer of the "(In) Habitation"contributors. She has created a catalogue of more than 400 works, spanning virtually every genre from intimate vocal and chamber music to massive orchestral works and full-length operas. The Grammy-winning artist co-founded the Minnesota Composers Forum, now the American Composer's Forum, which provides opportunities for composers and their music to flourish.
León is a highly regarded composer, conductor and educator. The Cuban-born musician recently served as artistic ambassador of American culture to Madrid and was in residence in Beijing's Central Music Conservatory. She was founding music director of the Dance Theater of Harlem and instituted the Brooklyn Philharmonic Orchestra's popular community concert series.
Laitman is one of today's most prolific and widely performed composers of art songs. She has composed nearly 200 songs, setting the poetry of classical and contemporary poets from Emily Dickinson to Richard Wilbur, and has created a unique body of music commemorating the Holocaust. Laitman's first full-length opera, "The Scarlet Letter," premiered in 2008 at the University of Central Arkansas.
Cloud is an active composer, soloist and recitalist. Her catalog includes a growing number of "singer-friendly" works; the acclaimed cantata "Feet of Jesus," which has been performed and recorded by the Saint Jacob's Chamber Choir; a soprano saxophone concerto; and a woodwind quintet. She is the vocal coordinator at Northern Arizona University.
Harberg is a New York-based composer, pianist and teacher who has earned numerous prizes, including an ASCAP award and a Fulbright-Hays fellowship to study in Belgium. CDs of her music include "Mountain Songs" (Koch International Classics, 2002).
Fábregas is a Spanish-born composer, pianist and teacher whose work has been used by many choreographers, including Jerome Robbins, Hector Zaraspe, Janet Soares and Anna Sokolow. Her music has been commissioned and performed by a variety of artists, from the Dale Warland Singers to the Santa Fe Symphony Orchestra to the Texas Music Teachers Association. The Music Teachers National Association named her "Composer of the Year" in 2001.
"The Atwood Project has the given the American art-song repertoire 19 new songs—an amazing spectrum of moods and colors," says Carol Kimball, music professor at the University of Las Vegas and author of the seminal book "Song: A Guide to Style and Literature" (Booklines Hawaii, 1996). "It is a priceless gift."