Health & Society
Marion Wilson's NYC art exhibition 'Artificially Free of Nature' examines environment through creation, instruction
The School of Education has announced the opening of "Artificially Free of Nature, New Paintings," an exhibition by Marion Wilson, director of community initiatives in the visual arts, at the Frederieke Taylor Gallery in Manhattan. An opening reception will be held on Thursday, Feb. 25, from 5-7 p.m. at the gallery.
Wilson's miniature oil paintings are on glass slides and lantern glass covers of abandoned or marginalized landscapes. Many of the paintings in the show focus on the Solvay Waste Beds, 1,400 acres of contaminated and sterile land, a superfund site near Syracuse. Wilson gained access to the site as an artist-in-residence and worked alongside scientists and environmentalists who are trying to remediate the land.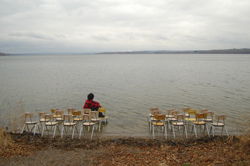 Wilson has painted the landscape through four changing seasons. The microscope slides examine the scientific aspect of the project; their small size requires the viewer to inspect the paintings, and therefore the site, more closely.
"As an artist, I think I find beauty in places that others have given up on," Wilson says. "I recently have turned my attention to what is closest at hand, in an effort to find and feel a sense of place. This manifests itself in these miniature landscape paintings of a neighborhood superfund site and in the large-scale urban design/build project, 601 Tully."
Wilson's practice consists of working collaboratively with people from different disciplines, leading large scale public art projects with limited budgets, recycled materials, and overlooked populations and neighborhoods. The 601 Tully and M-Lab (Mobile Literacy Arts Bus) projects are interdisciplinary efforts supported by the Syracuse University Partnership for Better Education.
"Artificially Free of Nature" is an extension of Wilson's co-taught course with Sarah McCoubrey from the College of Visual and Performing Arts, "The Lake Project: Social Sculpture and the Urban Landscape." The Lake Project examined Onondaga Lake from a variety of perspectives, including social, economic, religious and cultural, and the lake itself was the source for the creation of interdisciplinary art. McCoubrey joined Wilson in her study of the Solvay Waste Beds and applied the principles developed at the lake to their work in Solvay.
Wilson lives and works in Syracuse, and maintains her own art studio and art practice in New York City. Her work has been featured in exhibitions in New York City, New Orleans and Miami.
For more information about Community Initiatives in the Visual Arts, contact Wilson, or visit http://soe.syr.edu/centers_institutes/community_initiative_visual_arts/default.aspx.
For more information on Wilson's upcoming show "Artificially Free From Nature," visit the Fredericke Taylor Gallery at http://www.frederieketaylorgallery.com.