Media, Law & Policy
Katie Couric to emcee fourth annual Mirror Awards ceremony June 10
The S.I. Newhouse School of Public Communications has announced that CBS News' Katie Couric will serve as emcee at the fourth annual Mirror Awards luncheon ceremony honoring excellence in media industry reporting. The luncheon will be held Thursday, June 10, from 11:45 a.m.-2:30 p.m. at the Plaza Hotel, Fifth Avenue at Central Park South, New York City. Lorraine E. Branham, dean of the Newhouse School, will host the event.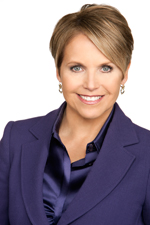 Couric is anchor and managing editor of the "CBS Evening News with Katie Couric" which, when it debuted in 2006, made her the first female solo anchor of a weekday network evening news broadcast. She is also a "60 Minutes" correspondent and anchors CBS News primetime specials. She has reported on and anchored from some of the biggest stories, domestically and internationally. She was previously co-anchor of NBC News' "Today" for 15 years and also worked for WRC-TV, Washington, D.C.; WTVJ, Miami; CNN; and ABC News. She currently writes a monthly column for Glamour magazine featuring interviews with female role models, and hosts the weekly webcast @KatieCouric featuring interviews with top newsmakers.
The Mirror Awards luncheon ceremony will include the presentation of juried awards in seven categories:
• Best Single Article (Traditional Media)
• Best Single Article (Digital Media)
• Best Profile (Traditional Media)
• Best Profile (Digital Media)
• Best Commentary (Traditional Media)
• Best Commentary (Digital Media)
• Best In-Depth Piece (Traditional Media)
In addition, two special awards—the Fred Dressler Achievement Award and the i-3 award for impact, innovation and influence—will be presented.
The Mirror Awards, established by the Newhouse School in 2006, honor the reporters, editors and teams of writers who hold a mirror to their own industry for the public's benefit.
For more information, contact Jean Brooks at (315) 443-5711 or mirror@syr.edu, or see http://mirrorawards.com.