Campus & Community
'Covering Photography' curator Karl Baden to give gallery talk March 2
Karl Baden '74, guest curator of Syracuse University Library's spring 2010 exhibition "Covering Photography: Imitation, Influence and Coincidence," will give a gallery talk at 5 p.m. on Tuesday, March 2, in Bird Library's sixth floor gallery.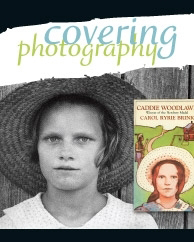 Baden is a Boston-based photographer and member of Boston College's fine arts department. The exhibition, which compares book cover art with iconic photography, previously appeared at the Boston Public Library in fall 2009. It is based on Baden's Covering Photography website.
According to Baden, "The connection between book cover and photograph may be obvious—an instance of imitation or even blatant appropriation. In other cases, it is more a question of the designer or illustrator being subtly, perhaps even unconsciously, influenced by a particular photographer or photograph. Finally, there may be no direct, or even indirect, trail of influence; the idea or visual trope may just be part of our collective cultural consciousness."
Among the pairings in the exhibit are the Italian edition of James Baldwin's "If Beale Street Could Talk," which uses Walker Evans's "Atlanta, Georgia, 1936" as the source for its cover artwork, and the cover image of "The Mammoth Book of Erotica," which calls to mind "Nude, 1919," part of Alfred Stieglitz's collective portrait of his wife, the painter Georgia O'Keeffe.
The exhibition is free and open to the public and runs from Jan. 19- April 30. Gallery hours are Monday- Friday from 9 a.m.- 5 p.m., except holidays. The exhibit is also featured in the exhibit case on the first floor of Bird Library.