Campus & Community
EPA associate administrator Heinzerling to visit Syracuse March 5
On Friday, March 5, the Syracuse Center of Excellence (SyracuseCoE) will host a presentation by Lisa Heinzerling, U.S. Environmental Protection Agency Associate Administrator for Policy, Economics and Innovation, in Maxwell Auditorium on the Syracuse University campus. The event will run from 10-11 a.m. and is free and open to the public, with parking available in Irving Garage.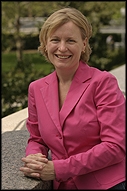 Heinzerling, who will also participate in the SyracuseCoE Headquarters dedication at 2 p.m. that afternoon (see http://syracusecoe.org for more information), will discuss how smart growth approaches to development, and green building can both serve as an important component of our nation's efforts to combat climate change.
Prior to being named associate administrator at EPA, Heinzerling served on the Presidential Transition team to EPA and as the senior climate policy counsel to EPA Administrator Lisa Jackson. Before EPA, Heinzerling was a faculty member at Georgetown Law School and served as the primary author of the plaintiffs' briefs for Massachusetts v. EPA, where the court held that the agency has the authority to regulate greenhouse gases. She is also the co-author, with Frank Ackerman, of  "Priceless: On Knowing the Price of Everything and the Value of Nothing" (The New Press, 2005).
The SyracuseCoE accelerates the creation of environmental and energy innovations for a sustainable future, engaging collaborators at 200+ companies and institutions to address global challenges in clean and renewable energy, indoor environmental quality, and water resources. Its members conduct targeted research, demonstrate new technologies, commercialize innovations and educate the workforce.