Discovery by SU Florence professor in Botticelli masterpiece becomes subject of BBC documentary
Dan Brown, watch out. Who says a real-life art historian can't make a major discovery about a world-famous, mysterious painting? A recent episode of a BBC series, "The Private Life of a Masterpiece," highlighted a discovery by SU Florence professor Rab Hatfield, who found the key to some cryptic details hiding a dangerous message in Botticelli's "The Mystic Nativity."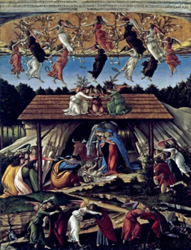 The style of this beautiful vision of maternal love, earthly harmony and heavenly ecstasy marks a radical departure from Botticelli's most famous works, "Primavera" and "The Birth of Venus." Odd, too, in the upper part of the Mystic Nativity, are the crowns with ribbons that have Latin inscriptions.
Hatfield explains that his discovery was pure serendipity, made at the National Library in Florence. While waiting for a manuscript, he chanced to see a catalogue of engravings that illustrated Savonarola's writings. He was especially intrigued by one that "looked like a chandelier."
Upon closer inspection Hatfield learned that it was a crown with inscriptions very similar to those he recalled from "The Mystic Nativity." Meticulous research followed, and Hatfield confirmed that the crowns and inscriptions represented in Botticelli's famous painting in fact closely echo elements found in the Savonarola wood engraving. He also investigated the unsettling Greek inscription at the top of the painting, which alludes to the imminent coming of the Apocalypse.
"The discovery was so very exciting," says Hatfield. Ever since Giorgio Vasari, writing in 1550, art historians have known that Botticelli had been strongly influenced by the puritanical friar Savonarola, who held Florence in his grip in the 1490s. Savonarola was repelled by the "vanities" in Florence; he encouraged Florentines to repent, give up their fancy clothes, extravagant lifestyle and pagan works of art. He also promoted Christian art, such as the woodcuts that illustrated his text. When Hatfield linked one of these to "The Mystic Nativity," he found the "smoking gun" that linked Botticelli and Savonarola.
SUF professor Jonathan Nelson, also interviewed for the documentary, is no stranger to the BBC audience, having already been featured in the "Private Life of a Masterpiece" episodes on "Primavera" and "The Last Supper." He speculated that the inscription in Greek was initially completely hidden by the original frame, noting, "Even if you cover this strip, the painting's proportions work and make more sense." Nelson's theory gives further weight to the idea that Botticelli had been swayed by Savonarola's teachings but knew it was dangerous to publicly support them.
SUF recently offered a viewing of the BBC documentary to students, faculty and staff. Said Sarah Dziamba, one of the 2010 SUF art history graduate candidates: "As graduate students, it is encouraging to know that serendipitous finds are still possible for well-known works of art such as Botticelli's 'Mystic Nativity.' In addition, it is exciting to see our professors' scholarship in action."
"It was a difficult program to make," says BBC Director Ian Jones. "With something like Leonardo's 'Last Supper' or Michelangelo's 'David,' it's quick and easy to explain what the work shows, how previous artists had handled the scene, and why this particular version is so revolutionary. Here, a lot of background had to be given—about Savonarola and his teachings in particular—before what's so unusual about the painting becomes apparent. Rab's research findings became central to the unfolding of the story in the documentary."
"Although Professor Hatfield modestly suggests that his discovery was serendipitous," says SUF Director Mike Calo, "his knowledge of art history, his inquisitive nature and his characteristic drive to pursue a hunch indicate that he is in fact a detective—our very own Sherlock Holmes of art history."