Media, Law & Policy
Photography student Juliette Lynch wins top prize in international Alexia Competition
Juliette Lynch, a senior photography student in Syracuse University's S.I. Newhouse School of Public Communications, placed first in the student portion of the 20th annual Alexia Photojournalism Competition, held Feb. 19 and 20 at the Newhouse School. She receives a full-tuition scholarship to study photojournalism at SU Abroad in London, plus a $1,000 cash grant to help produce her project.
Lynch's project, "Growing Up Girl," is based in Skaneateles and documents the difficulties faced by teenage girls in today's society. She began work on the project last semester in an advanced multimedia class taught by Newhouse associate professor Bruce Strong.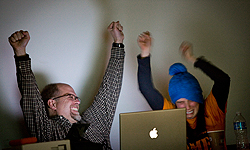 "I was so excited when she won," Strong says. "I felt like an Olympic coach, watching her win a gold medal. Juliette has all the ingredients needed to be an exceptional visual storyteller: vision, passion and a compassionate heart that truly connects with her subjects. I am delighted she won and I look forward to seeing the impact this has on her confidence and her career." (At right: Bruce Strong and Juliette Lynch rejoice as Lynch is named winner of the 2010 Alexia Student Competition on Saturday. Photo by Andrew Maclean)
Lynch has been a photo intern at the Cape Cod Times and an education intern at the International Justice Mission in Washington, D.C. Some of her work can be seen on her blog, http://quememueve.blogspot.com.
Second place winner in the student competition was Muhammad Murtada of Dhaka, Bangladesh, a photography student from Pathshala, the South Asian Institute for Photography. He receives a half-tuition scholarship to study photojournalism at SU Abroad in London, plus a $500 cash grant to help produce his project.
Award of Excellence winners were Cody Duty, a senior at Western Kentucky University; and Ryan Henriksen and Diego James Robles, both seniors at Ohio University. They each receive a $1,600 scholarship that pays part of tuition, fees and living expenses to study photojournalism at SU Abroad in London and a $500 cash grant to help produce their proposed stories.
Winner of the professional competition was Louie Palu, a documentary photographer based in Washington, D.C. He receives a $15,000 grant to document Kandahar, Afghanistan, the birthplace of the Taliban.
Palu graduated from the Ontario College of Art in 1991. His work has appeared in numerous publications, festivals and exhibitions internationally, including the photojournalism festival Visa Pour L'Image in Perpignan, France, and the 2009 New York Photo Festival. He has received numerous accolades, including a silver medal from the Society of Newspaper Design; eight awards from the White House News Photographers Association; the Hearst 8×10 Photography Biennial Award; the 2008 Canadian Photojournalist of the Year; the Hasselblad Master Award; and a 2009 Aftermath Grant. His work has been published in The New Yorker, The New York Times, Time magazine, Newsweek, The Atlantic, The Washington Post, The Economist, The Globe and Mail and Sunday Times Magazine. He has worked on assignment internationally, focusing on the war in Afghanistan and Guantanamo Bay.
In addition, a Special Recognition Grant of $7,500 went to AKM Shehab Uddin, Drik Picture Library Ltd. team leader and photographer in Dhaka, Bangladesh. He will document "pavement dwellers" in Dhaka—migrants lured to the capital by the promise of better opportunities who are now living on the streets and working menial jobs, looked down upon as social outcasts.
Uddin attended Pathshala, the South Asian Institute of Photography from 2007-2009, and was a staff photographer at the Daily Sangbad, a leading national daily newspaper published in Dhaka, for seven years. He was also an assistant lecturer for the College of Journalism and Mass Communication in Katmandu, Nepal from 2006 to 2007.
The annual Alexia Competition seeks photographers whose work gives insight into cultural differences and voices to victims of social injustice. It is sponsored by the Alexia Foundation, which was established by Peter and Aphrodite Tsairis in memory of their daughter, Alexia Tsairis, a victim of the 1988 terrorist bombing of Pan Am Flight 103 over Lockerbie, Scotland. At the time of her death, Tsairis was a junior photojournalism student in the Newhouse School. Lynch and Udin's winning portfolios, and the work of finalists, can be seen on the http://www.alexiafoundation.org.
This year's competition drew 54 student and 210 professional applicants. Judges were Pamela Chen '05, senior editor for photography and multimedia for the Open Society Institute; Tom Kennedy, head of Kennedy Multimedia; and Patty Reksten, director of photography for The Oregonian.
For more information about the competition, contact David Sutherland at (315) 443-3370 or dcsuther@syr.edu.