Campus & Community
Point of Contact's 'Alejandra' inspired by life of Argentine poet
The Point of Contact Gallery presents "Alejandra," an international collective inspired by the life and poetry of Alejandra Pizarnik, Feb. 26-April 30. An opening reception will be held Feb. 26 from 6-10 p.m. The exhibition is free and open to the public.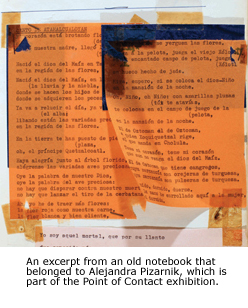 Pizarnik's surrealist voice resounds from the '60s to inspire a new generation of dreamers. One of Argentina's adored poets, she achieved literary greatness in the Spanish world and met an early death in 1972, at the age of 36.
"Alejandra" features a stellar assembly of international scale contemporary artists, three from Latin America—Graciela Sacco (Argentina), Patricia Betancur (Uruguay); Nayda Collazo-Llorens (Puerto Rico)—and three faculty members from Syracuse University's College of Visual and Performing Arts: Mary Giehl, Emily Vey Duke and Cooper Battersby.
Artists will be in attendance at the opening event.
A visual and verbal exploration, this exhibition complements the 2010 release of a Point of Contact journal special edition dedicated to Pizarnik. The new publication will feature a series of unedited letters about poetry, from young Alejandra.