Campus & Community
Career panel Feb. 10 helps English majors navigate job market
The comedian Gallagher once quipped that he used an English degree to open a poetry repair shop. Erin Mackie, associate professor and chair of Syracuse University's English department, appreciates the joke but knows that job hunting is no laughing matter. That's why her department's undergraduate committee has organized a career panel called "What Can I Do With an English Major?" on Wednesday, Feb. 10, at 5:30 p.m. in Room 500 of the Hall of Languages. The event, which is free and open to the public, features five college graduates whose English or literature training has led to success in their professional lives. For more information, call (315) 443-9485.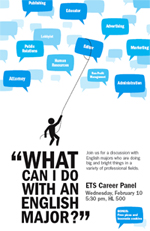 "More than ever, employers are looking for graduates with strong liberal arts backgrounds," says Mackie, whose own resume includes a Ph.D. in English from Princeton University. "This panel is an opportunity for English majors to find out how their diploma is a valuable credential in today's tough job market. The success of the panelists also bears witness to the importance of cultural literacy, critical thinking and masterful communication—the hallmarks of a liberal education."
The panel includes four people with SU affiliations: Annelise Finegan, acquisitions editor at SU Press and a former freelance copy editor and proofreader; Rossana Grassi G'74, associate dean for student affairs and former assistant dean for academic affairs in the S.I. Newhouse School of Public Communications; Edward Z. Menkin '67 M.A., '77 J.D., director of the Onondaga County Bar Association and former assistant district attorney; and Maureen Watkins '06, G'08, an English teacher at East Syracuse-Minoa High School. Julie Gozan, a research and strategy consultant to the U.S. labor movement and former director of corporate governance at Amalgamated Bank, rounds out the panel.
While the panel discussion is intended for English majors, Mackie says many other undergraduates could benefit: "Many people have the perception that English majors have difficulty finding jobs. The truth is that they and their liberal arts counterparts have hundreds of career opportunities from which to choose. The versatility of the degree is sometimes what makes the job hunt challenging."
The English department is housed in The College of Arts and Sciences and features world-class faculty members committed to critical diversity, literary excellence, intellectual rigor and cultural literacy. The department offers major and minor degree programs in English and textual studies, as well as master's and doctoral opportunities in creative writing and English. More information is available at http://English.syr.edu.