Arts & Culture
Syracuse Stage presents Arthur Miller's 'The Price'
From the author of American classics such as "All My Sons," "Death of a Salesman" and "The Crucible," Arthur Miller's "The Price" is taut, truthful and deeply engaging. In an overstuffed attic apartment, two long-estranged brothers, one a cop, the other a doctor, agree to meet to sell off what remains of their deceased father's furniture and find themselves in an emotional renegotiation of the past. Regrets, resentments and recriminations expose the high price each has paid for lost opportunities and lessons learned. Syracuse Stage's Producing Artistic Director Timothy Bond directs an accomplished cast of four in this drama of redemptive power.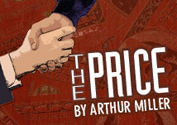 "The Price" runs Jan. 27-Feb. 14 at Syracuse Stage. Tickets can be purchased online at http://www.SyracuseStage.org, by phone at (315) 443-3275 or in person at 820 E. Genesee St. "The Price" is sponsored by Hiscock & Barclay. Media sponsors are The CNY Business Journal, WAER 88.3 and WCNY Connected. Syracuse Stage season sponsors are The Post-Standard and Time Warner Cable. "The Price" is a co-production with Geva Theatre Center of Rochester.
"'The Price' is Miller's funniest play," notes Bond. He says much of the humor derives from the character of Solomon, a 90-year-old furniture dealer. Miller created him in an attempt to reproduce a "Russian-Yiddish accent that still tickles me whenever I hear it."
The role of Solomon will be played by Kenneth Tigar, a familiar face from film and television who has appeared in "Barney Miller," the "Lethal Weapon" movies, "NCIS" and "Fringe." Richard McWilliams, whose credits extend from Broadway to the prestigious Guthrie Theatre and the Actors Theatre of Louisville, plays Victor. Walter will be played by Oregon Shakespeare Festival veteran Tony DeBruno. Carmen Roman plays Esther. Roman has appeared in the National Tour of "Angels in America" as well as in many regional productions, including shows at Chicago's Goodman Theatre and The Alliance Theatre in Atlanta.
"The journeys these characters take in this play go through many levels," says Bond. "You need a skilled and experienced cast to get them all. This cast is going to find it all—the humor and the deep drama in these complexly intertwined lives."
Set 40 years after the stock market crash of 1929, "The Price" explores how economic challenges can impact families and the choices we make. "This play is very much about the potency of history and memory and how they can stop people in their tracks from going forward in their lives," says Bond. "In this specific case, it's the illusions and delusions created to survive a difficult situation."
Special events associated with this production include:
• Tuesday, Jan. 26, 7:30 p.m.—"M&T Bank Pay What You Can Night," with
$9 suggested minimum donation to watch the final dress rehearsal. Tickets available in person at the box office, day of performance only.
• Thursday, Jan. 28, 6:30 p.m.—"LGBT Pride Night."
• Friday, Jan. 29—"LIVE in the Sutton." Come for the show, stay for the music.
• Sunday, Jan. 31—"Actor Talkback Series."
• Saturday, Feb. 6, 3 p.m.—"Welch Allyn Signed Interpreted Performance
In Memory of Susan Thompson."
• Wednesday, Feb. 10—"Wednesday @ 1 Lecture Series."
Special event programs are additionally funded by the Doris Duke Charitable Foundation/The Andrew W. Mellon Foundation and administered by Theatre Communications Group, the National Organization for the American Theatre.