Arts & Culture
Stephanie Solomon '72, fashion director for Bloomingdale's, to visit SU on Jan. 26, 27
Syracuse University alumna Stephanie Solomon '72, the operating vice president for fashion direction for women's ready-to-wear at Bloomingdale's, will return to her alma mater Jan. 26 and 27 to give her first talk at SU since graduating.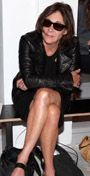 On Tuesday and Wednesday mornings, Solomon will mentor the 22 senior fashion design students. She will review each of the senior collections and help each student edit his or her 25-piece collection to six looks that will be created and shown on campus in the spring. This will be followed by a fashion show in New York City that will feature works selected by a jury in Syracuse.
"We are fortunate to have such a successful alumna as Stephanie return to campus to share her expertise and insights with our students," says Jeffrey Mayer, program coordinator for fashion design in SU's College of Visual and Performing Arts (VPA). "This is an invaluable opportunity for them to meet one-on-one with a leader in the retail and fashion industry and gain knowledge that they can apply in their future careers."
In addition to her individual mentoring, Solomon will speak to fashion, retail and journalism students about her career during a lecture Tuesday at 2 p.m. in The Warehouse Auditorium. The fashion design program is located on the seventh floor of The Warehouse, SU's facility in downtown Syracuse, which is home to all design programs in VPA's School of Art and Design. The fashion design floor includes state-of-the-art design areas for all levels of fashion students, as well as a historic costume storage area and an exhibition area.
For Solomon's visit, the display window on the street level of The Warehouse's West Fayette Street side will feature some of the season's hottest looks, which she presented to The New York Times in a Dec. 6, 2009, article.
The lecture and visit by Solomon, who is responsible for finding the most exciting, fashion-forward merchandise for Bloomingdale's stores nationwide, is the first in VPA's School of Art and Design Fashion Design Lecture Series. Speakers to follow are Thai Nguyen, a current star of the Bravo reality series "Launch my Line," who will be speaking and working with students in February; designer Mary McFadden, who will visit in March; and Henry Grethel and Richard Eisenberg, who will discuss menswear in April.
Solomon joined Bloomingdale's as a fashion coordinator in 1984. She started in Women's ready to wear and then moved on to cover the Women's Fashion Accessories markets. She reported directly to the renowned Kalman Ruttenstein, who was her mentor and tutor for 23 years. Solomon's job includes covering the twice yearly women's fashion collection showings in New York, Milan and Paris.
Focused on design and creative development, VPA's fashion design program offers an intellectually stimulating environment with a global perspective. This, coupled with practical and theoretical skills, technology and the study of the cultural context in which fashion exists, provides a broad-based education in fashion. In addition to Solomon, notable alumni from SU and the fashion design program include Grethel, Betsey Johnson, Donald Brooks, Tom and Linda Platt, Lisa Kline and Danna Weiss.