Arts & Culture
SU commission 'Borat in Syracuse' up for Grammy Award
Paquito D'Rivera knows all about stereotypes. As one of today's most successful Latino musicians, he has been confronted by them for more than half a century. Perhaps it was a sense of ironic justice that led him to find inspiration in no less a creature of stereotypes than Borat Sagdiyev, the mustachioed Kazakhstani journalist who is best known as the title character in Sacha Baron Cohen's 2005 film "Borat." In any case, D'Rivera's piece, "Borat in Syracuse," has been nominated for a Grammy Award as Best Instrumental Composition.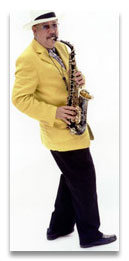 "The first time I was in Syracuse was in the early '80s, and they had, like, 12 inches of snow or something," explains D'Rivera, a Cuban exile. "Years later, when the University commissioned me to write a piece, I had just seen the hilarious movie 'Borat.'" He says that the piece was born when he envisioned the "skinny character" trekking over mountains of snow in Syracuse, wearing his trademark gray suit, carrying a brown leather bag with a live chicken in it, waving a small American flag. "That image was so descriptive and hilarious that the melody, especially the Middle Eastern vibe of the bridge, just came out naturally," he concludes.
Less than a year later, D'Rivera and his quintet were onstage on campus at Goldstein Auditorium, premiering "Borat in Syracuse" before a capacity crowd at a concert co-sponsored by Pulse and the 2007 Syracuse Symposium, whose theme that year was "Justice." Following the quintet's version of the piece, a Big Band arrangement was performed by SU's Morton B. Schiff Ensemble. The response to each was so immediate that D'Rivera added both versions to his repertoire and has since performed them all over the world.
"I don't think I've ever seen such concentration on so many student-musician faces as when they played the Big Band arrangement," recalls Eileen Strempel, who helped organize the commission and the concert. "Paquito was patient, gracious, demanding, delightful and funny, and, man, could he play." The New Yorker echoed these sentiments, calling it a "thrilling" concert in which professionals, students and the community came together with the "inspirational enthusiasm of a premiere that could only happen in Syracuse."
Motivated by the piece's critical and commercial reception, D'Rivera recorded the quintet version for his album "Jazz-Clazz" (Timba Records, 2009). In addition to the "Borat in Syracuse" nomination, "Jazz-Clazz" is up for "Best Classical Crossover Album."
These nominations come on the heels of several impressive D'Rivera accolades: "Clarinetist of the Year" for the third year in row in a poll of readers of DownBeat magazine, whose cover he graced in December, and a Medal of Honor from the National Arts Club in New York. He will have to make space for that hardware among the nine Grammies already sitting on his shelf, a National Medal for the Arts (2005), the Living Legend Award (2007), the Jazz Masters Award (2005) and several honorary degrees. "Let's keep in mind that teaching is a two-way street," D'Rivera recently told DownBeat. "Be ready to hear students' opinions and maybe change some of your own. Think about the lamentable music gaps between jazz, classical, Latin and pop forms, and let's try to bridge them."
Strempel, associate dean of the Graduate School and associate professor of art and music histories, as well as a former artistic director of Pulse, agrees with D'Rivera, noting that the kind of cultural "bridging" he suggests exemplifies the Scholarship in Action approach to education, requiring the collaborative efforts of many people, on and off campus. She cites the names of more than a dozen colleagues, including Kandice Salomone G'80, '92, associate dean of student services in Arts and Sciences (and former director of Syracuse Symposium, which underwrote the commission) and Ned Corman, whose Rochester-based music education organization, the Commission Project (TCP), introduced D'Rivera to SU.
"The idea of bringing together world-class musicians like Paquito with 'everyday' students has always seemed to be a good one," Corman says. "I could see Scholarship in Action embodies the values we've long held at TCP and that made me enthusiastic enough to encourage Paquito to spend time at Syracuse. It's a credit to the entire University that [the Division of] Student Affairs and the colleges of Arts and Sciences and Visual and Performing Arts had sufficient vision to step up to the plate in support of him." Whether or not D'Rivera walks away with a 10th Grammy this weekend, he knows that "Borat in Syracuse" is a winner that has helped push Latin music beyond the boundaries of preconceived notions.
To say that "Borat in Syracuse" is treading on regional and cultural stereotypes seems like trumpeting the obvious, but for some listeners, it's that quality that makes the piece brilliant. Like its screen inspiration, "Borat in Syracuse" is part satire and part slapstick, reveling in its physical joy.
This approach is typical for D'Rivera, a star since childhood who has recorded more than 30 albums as a saxophonist and clarinetist, written hundreds of compositions and directed countless ensembles, including the United Nations Orchestra, which he cofounded with trumpeter Dizzy Gillespie in the 1980s. He has also written two books.
"The girls in the office were worried about me using 'Borat' in the title for a piece commissioned by a university, but, in the end everyone accepted it, and now I have a Grammy nomination to show for it," says the New Jersey resident. "I'd like to send Sacha Baron Cohen a copy of the CD, but I don't know how to contact him." D'Rivera may have a chance to slip the British comic a copy at this weekend's ceremony in Los Angeles. "I hear that Baron Cohen's brother is a composer, too," adds D'Rivera. "All of us composers have to pay the rent, you dig?"