Campus & Community
Local talks slated for new SU Press book on Syracuse Nats legend Earl Lloyd
Syracuse Post-Standard Columnist Sean Kirst is giving several local book talks about his new Syracuse University Press book, "Moonfixer: The Basketball Journey of Earl Lloyd," published this month.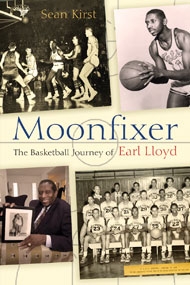 The book details how, in 1950, future Hall of Famer Earl Lloyd became the first African American to play in a National Basketball Association game. One of three African Americans to enter the NBA at that time, Lloyd played seven games for the Washington Capitals before the team folded. He joined the Syracuse Nationals for six seasons and later played for the Detroit Pistons before he retired in 1961. In a series of extraordinary conversations with Kirst, Lloyd reveals his fierce determination to succeed, his frustration with the plight of many young black men, and his sincere desire for the nation to achieve true equality among its citizens.
Kirst will discuss the book and his interactions with Lloyd Feb. 6 at 2 p.m. at Borders Books in Carousel Center; at the Onondaga Historical Association Feb. 7 at 2 p.m.; and at Barnes and Noble Booksellers in DeWitt on Feb. 11 at 7 p.m. All of the book discussions are open to the public.
For more information on the book, visit http://www.syracuseuniversitypress.syr.edu/fall-2009/moonfixer.html or e-mail Mona Hamlin at mhamlin@syr.edu.