Media, Law & Policy
Legendary singer, civil rights activist Mavis Staples to perform at SU Feb. 27
In the 1960s, the legendary family gospel group The Staple Singers became the musical voices of the Civil Rights Movement. Group member and civil rights activist Mavis Staples continues to inspire those who work for peace and justice throughout the world today with her Civil Rights Movement-inspired blend of gospel, soul, folk, blues and jazz.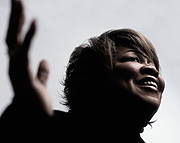 Staples, a Grammy Award nominee, will bring her inspirational music and experiences to Syracuse University on Saturday, Feb. 27, performing "We'll Never Turn Back" in concert at 5 p.m. in the Schine Underground in the University's Hildegarde and J. Myer Schine Student Center. The concert is sponsored by the Cold Case Justice Initiative (CCJI) in SU's College of Law. Tickets–$25 for general admission and $20 for students–are currently available at the Schine Student Center box office, 443-4517. Reduced-rate parking for the concert is available in the University Avenue Garage.
"Mavis Staples' music epitomizes the faith and courage of the Civil Rights Movement. As a native of Mississippi, she sings what she knows and has lived. It is an honor for us to welcome her to Syracuse and Upstate New York for this special program," says Paula C. Johnson, SU professor of law and co-director of the CCJI.
Staples' concert will be preceded by "It's Never Too Late for Justice," a conversation with Civil Rights Era cold case activists and family members, from 3-4:30 p.m. in Rooms 304A, B and C in the Schine Student Center. The conversation event is free and open to the public, and reduced-rate parking is also available in the University Avenue Garage.
The panel discussion will include key journalists, community activists and advocates, and family members of Frank Morris, Joseph Edwards and Wharlest Jackson, whose unsolved murders in Mississippi and Louisiana CCJI is actively investigating.
"The panel discussion with family members, activists and advocates, and the concert with Mavis Staples is an ideal combination. She sings about some of the very people whose cases we are investigating, and it will be special for their family members to be present during her concert," says Johnson. "Mavis Staples' artistry and life history speak to all people who love music and who are committed to justice, human dignity and peace. We hope the community will show Mavis Staples a great welcome for what surely will be a memorable event."
Staples reached back to the freedom songs of the '60s, such as "Why Am I Treated So Bad," "When Will We Be Paid for the Work We've Done" and "Long Walk to D.C.," and new originals for her latest studio hit CD, "We'll Never Turn Back" (Anti Records). The CD appeared on more than 30 "Best Of" critics lists (including No. 1 CD of the Year from the Chicago Tribune). Her first live solo CD, "Live: Hope at the Hideout," a recording of her acclaimed show at Chicago's Hideout, has been nominated for a Grammy Award for Blues Album of the Year.
The Cold Case Justice Initiative (CCJI) in SU's College of Law was founded in response to the 1964 murder of shoe shop owner Frank Morris in Ferriday, La., which remains unsolved. SU College of Law students, under the supervision of Johnson and fellow law professor Janis L. McDonald, researched thousands of documents and worked with local investigative reporters. This led to witnesses providing new information, to the appointment of a special agent by the Federal Bureau of Investigation and to a pledge by the U.S. attorney for a full review of the case. The students' efforts have ignited law enforcement investigation of additional deaths long suspected by the community to be racially motivated and committed by the Ku Klux Klan.
The CCJI conducts investigations and research on unresolved cases; offers academic courses, public forums and other special events; and serves as a clearinghouse for sharing and receiving information on active cases.
For more information on the concert and conversation, contact the Cold Case Justice Initiative at 443-2166 or e-mail coldcase@law.syr.edu.