Health & Society
Smile Train founder Brian Mullaney to visit Newhouse
Brian Mullaney, co-founder and president of the cleft lip and cleft palate charity Smile Train, will visit the Newhouse School on Tuesday, Feb. 2. He will speak at 6 p.m. in the Joyce Hergenhan Auditorium in Newhouse 3. His talk is free and open to the public. Parking is available in SU pay lots.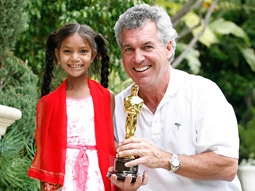 Mullaney, a former advertising executive, has been involved with various surgery-related children's charities for more than 20 years. He founded Smile Train–an international charity that supports cleft lip and cleft palate surgery for children in need and cleft-related training to doctors–in 1999. Previously, he started a children's charity in New York City that provided free plastic surgery for hundreds of indigent children and served on the board of Operation Smile, an international children's charity treating facial deformities.
Mullaney has visited many of the poorest countries in the world, where he has met with thousands of children suffering from cleft lip and palate, and thousands of surgeons and other medical professionals.
A video produced by Smile Train, "Smile Pinki," won a 2008 Academy Award for Best Documentary Short.
Mullaney earned a degree in business economics at Harvard University and worked in advertising for more than 25 years. In 1990, he co-founded Schell/Mullaney advertising, a high-tech marketing agency that was later sold to CKS, the first publicly held, interactive advertising agency in the United States.
For more information about Mullaney's visit, contact Kevin O'Neill at (315) 443-9206 or kboneil@syr.edu.