Campus & Community
SU Magazine Fall/Winter '09 issue available now
The Fall/Winter '09 issue of Syracuse University Magazine was published recently and will be distributed worldwide to an estimated 200,000 members of the University community, including alumni, faculty, staff and friends of SU.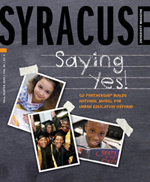 Among the highlights are a cover story on the Say Yes Syracuse program and the University's collaborative efforts in the urban education reform initiative; profiles of Board of Trustees Chair John H. Chapple '75 and Women's Hall of Fame inductee Karen DeCrow L'72; and a look at the SU in Florence program, which celebrated its 50th anniversary this fall. Another Orange 50th anniversary is recognized as well: the 1959 SU football team's undefeated national championship season.
The issue also features a photo gallery of Orange Central Weekend and a new look for the University Place department, which has been renamed "Orange Matters." The section has added a new series titled "University Treasures," which will offer readers the opportunity to learn about some of the fascinating artifacts held by SU's Special Collections Research Center.
Along with this issue, the magazine's website (http://sumagazine.syr.edu) has been redesigned to align with the University's home page and take greater advantage of the online format. "Syracuse University Magazine plays such an important role in our community," says publisher Nicci Brown G'98. "We want to ensure our readers can connect with us in the manner most convenient to them, and we're committed to making their experience—whether it's print- or electronic-based—interesting, informative and enjoyable!"
The Fall/Winter '09 issue has several exclusive Web features, including an audio slideshow of Gary Radke'73, Dean's Professor of the Humanities in The College of Arts and Sciences, discussing his discovery of two Leonardo da Vinci sculptures; a video about the Orange Circle Award and its recipients; and "Alumni Reflections," a new audio offering that will allow alumni to share their memories of campus. The inaugural "Reflection" features Lloyd Anderson '47, who talks about his days as an SU swimmer, leaving to serve in World War II, and returning to campus as a veteran.
"For years, we've had so many alumni interested in telling their stories about their time on the Hill and what it's meant to them, but we've been limited by the printed page," says editor Jay Cox. "Our new 'Alumni Reflections' feature creates a great opportunity for us to share those stories and, in the process, develop an oral history archive that the entire SU community can enjoy."