Media, Law & Policy
Every corner of the globe: Maxwell chosen to host prestigious Humphrey Fellows
From the Maxwell Perspective
When Roxana Silva speaks of corruption in her home country of Ecuador, her passion is palpable. She tells of government officials absconding with public funds and the uneven application of law. She describes, for example, a community of indigenous farmers struggling against poverty while, for 10 years, completion of an irrigation channel they needed for their crops was delayed by official mismanagement and indifference.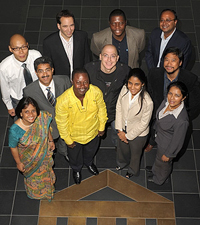 As she discusses her efforts to promote public accountability and civic engagement in a country with a poverty rate hovering near 40 percent, she leans forward, searching for exactly the right words. Apologizing—unnecessarily—for her English, she talks about the critical need to empower people at all levels to speak out and serve as monitors against corruption in Ecuadorean public life.
"It's very important for me to promote human rights and the capabilities and abilities of Ecuadorean people, to let them know their rights and exercise those rights," says Silva. "We have to teach people, train people, because they have a voice. And their voice needs to be heard by the authorities."
Silva hopes to develop new tools for achieving that goal during a 10-month residency at the Maxwell School, where she and 10 other international professionals are pursuing non-degree study and professional development as the school's first cohort of Hubert H. Humphrey Fellows. Syracuse University is one of just 17 universities nationwide selected to serve as host schools for Humphrey Fellows and one of three focusing specifically on public administration and public affairs. The Humphrey Fellows program, created in 1978 by the Carter Administration, supports leadership development and networking opportunities for individuals from around the world who have shown a commitment to public service.
"Hubert H. Humphrey was a statesman with an international agenda," says Margaret Lane, assistant director of Maxwell's Executive Education Program and, in that role, program manager for the Humphrey Fellows at Maxwell. "So the essential vision of this program is to identify future leaders, to promote deeper understanding of one another—us and them—and for them to develop the skills they need to promote positive change around the world. For the past 30 years, the program has created a network of leaders who occupy very important positions in nearly every country of the world, and that network represents an important source of positive change and development."
The Humphrey Fellows Program will reside at Maxwell at least four years, says Lane. It is among the latest in a series of programs and opportunities that have brought international students, professors and professionals to Maxwell to further their own development while serving the cause of international understanding. The school's ability to attract the Humphrey program—funded by the U.S. State Department as a Fulbright Exchange—speaks to its longstanding success with such programs, says William Sullivan, assistant dean and a past director of executive education. Maxwell has been especially successful, he says, in attracting State Department-funded activities.
"It helps," he says, "that over the last 20 years we've been very successful in bringing in other groups of international students—groups not funded by the State Department—for executive education. We have a track record of running these programs, and running them successfully."
In addition to Silva, the SU cohort—among an estimated 160 fellows selected annually—includes public service professionals from Sierra Leone, the Philippines, Israel, India, the Dominican Republic, Tunisia, the Republic of Korea, Moldova and Liberia. They arrived at Maxwell in mid-August, each with a customized plan that includes optional course work, a seminar exploring questions of leadership and democracy, community service, faculty mentoring and engagement with both local and regional or national organizations that dovetail with their professional objectives.
In India, Humphrey Fellow Shouvik Mitra left an architecture career to work on developing sustainable income opportunities for moving women out of poverty. At Maxwell, he's hoping to gain both the theoretical knowledge—in the areas of poverty dynamics, development theories and policy analysis—and the practical skills to support that effort.
"This program offers much more freedom than others, since it's a non-degree program," he says. "There are certain things that Maxwell provides that I need—courses in public policy, statistics, quantitative analysis, evolution of international programs, developmental economics—but I'm also networking. I have a lot of support from the other fellows and also a lot of flexibility." He's working locally with the Central New York Community Foundation and in the spring hopes to work with the World Bank, a major funder of development projects in India.
Among his other goals, Mitra hopes to find ways of expanding donorship bases and bringing more highly trained professionals—doctors and engineers, for instance—into the NGO sector. In his short time working with Syracuse-area nonprofits, he's found Americans' penchant for volunteerism particularly worthy of study.
"In my country, people are more concerned about themselves," says Mitra. "Here, they're not. They're concerned about others. Where does this act of caring come from? What is 'forcing' people to do this? If I can get the key to that, my country will progress a lot."
As a consultant who trains both citizens and public officials as part of her anti-corruption efforts in Ecuador, Silva says she applied to the program with the hope of developing new tools for promoting civic participation, human rights and engagement between citizens and public officials. She's already picked up some ideas and inspiration from local groups like FOCUS Greater Syracuse, ProLiteracy and Syracuse Cultural Workers. She also hopes to spend some time with the Open Society Institute in New York City or a public ethics office in Washington, D.C.
Silva, whose course work at Maxwell focuses on managerial leadership and public policy, says she finds the diversity of disciplines and faculty members at Maxwell particularly valuable. "I really like the mix of courses—international relations, political science, theories of conflict, social sciences—all in the same institution," she says. "It's multidisciplinary and interdisciplinary. And that's very interesting and very necessary to knowing how to resolve conflicts. You're working with people in a social society, but you also have to work with political society. You have to work with them together."
The diversity of Maxwell's student body adds another, somewhat unexpected, dimension to their experience, according to several of the fellows. Nimrod Pinhas Goren, founder of an NGO promoting young people's involvement in shaping Israeli relations with neighboring countries, finds the international mix—both among the fellows and throughout Maxwell—quite different from what he experienced as a university student in Israel.
"The interaction with other fellows here—it's not your usual neighborhood people you meet," he says. "Each person comes with an interesting background and experiences, but similar challenges. And the Maxwell community is very different than in Israel. All my classes at university were taught in Hebrew, so you would not be interacting with international students there. Here, people influence each other, enrich each other. I've found that very useful."
Addys Then Marte, of the Dominican Republic, agrees. "In one class, I'm the only Humphrey scholar, and yet 13 countries are represented," says Marte, who hopes to further her skills for promoting alliances and support among private sector, government and nonprofit groups. "In one small group, I'm discussing biological weapons with a student from Kenya. This is a good opportunity to learn and know about experiences of people from the other side of the world."
But the benefits flow both ways. "The more diverse student body you have, the more learning goes on," says Sullivan of the Humphrey Fellows Program. "Faculty members and our other students are able to develop contacts. Networks are established in parts of the world that over time will attract other individuals to school here. It's good visibility for the school."
"And it's a great challenge," says Steven Lux, director of executive education. "Here you have 11 people who are very accomplished, who have done a lot of interesting things, and you have to show that Maxwell is relevant to them. Do our interdisciplinary efforts work for them? Are our institutes and centers relevant to the rest of the world?"
Thus far, at least, Silva would say the answer is yes. "Maxwell is the best school of citizenship in the U.S., but I'm also trying to learn from organizations and people here," she says. "It's very important for me, so that I can 'catch' ideas, experiences and more information. The Ecuadorean people—we can change. But we need the knowledge and the methodologies. You have that in this country."