Syracuse University joins Center for Applied Identity Management Research
The Center for Applied Identity Management Research (CAIMR), a public-private partnership dedicated to solving society's most critical identity management challenges through applied research, today announced that Syracuse University has joined the organization at the associate partner level, through the University's Center for Information and Systems Assurance and Trust (CISAT).
SU Professors Shiu-Kai Chin and Scott Bernard, who serve as CISAT co-directors, will work closely with CAIMR to increase cybersecurity research and collaboration.
"We are extremely pleased that Syracuse University has joined CAIMR," says Gary R. Gordon, executive director of CAIMR. "CISAT's vision of improving society through the creation of trustworthy information systems is very complementary with our goals at CAIMR to improve the overall state of identity management globally. I have worked firsthand with Dr. Chin for over two decades, and I am certain that CAIMR will benefit greatly from having him as a contributor to our applied research, given his extensive knowledge of access control and computer and network security."
As an associate partner, SU will participate in CAIMR's research planning committee, which drives the research agenda for the organization. CISAT has acknowledged identity management as one of its key areas of research, and the collaboration between CAIMR and CISAT will lead to joint research projects in this area.
"After participating two years in a row in CAIMR's annual research agenda workshops, I realize that both the public and private sectors are struggling with so many facets of identity management right now," says Chin, a professor in SU's L.C. Smith College of Engineering and Computer Science (ECS). "There really is no one single answer to these challenges, but I firmly believe that the diverse and knowledgeable group of CAIMR experts and the organization's valuable research model will begin to solve these critical issues. CISAT's collaboration with the leading organization focused on identity management research will allow us to maximize our efforts on these significant societal problems."
Chin is also a Meredith Professor for Teaching Excellence in SU's Department of Electrical Engineering and Computer Science. He served as the interim dean of ECS from 2006-08. From 1998 until 2006, he was director of the New York State Center of Advanced Technology in Computer Applications and Software Engineering (CASE) at Syracuse University. Chin's research applies mathematical logic to the engineering of highly assured systems. Currently, his focus is on computer and network security with an emphasis on access control. He and his formal methods research group have created and used engineering design procedures based on higher-order logic and other formal methods to make both hardware and software.
Bernard is a professor of practice and the director of executive education for the School of Information Studies (iSchool) at Syracuse University. He teaches courses on enterprise architecture, IT security architecture and the role of public- and private-sector chief information officers. He has written two books on business and technology architecture and is the founding editor of the Journal of Enterprise Architecture. He also has served for more than 20 years in senior IT management positions in the military, government and academic sectors.
In addition to Chin and Bernard, faculty members from the iSchool, ECS, the Whitman School of Management, the Newhouse School of Public Communications, the Maxwell School of Citizenship and Public Affairs, the College of Law and the College of Arts and Sciences at Syracuse University will also have an opportunity participate in the new CISAT-CAIMR relationship.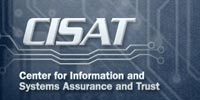 Established in June 2009, CISAT promotes the exploration of new ideas in information and systems assurance and trust by bringing together faculty from seven schools and colleges at Syracuse University who share a common vision of improving society through the creation of trustworthy systems. CISAT engages with University partners, including JPMorgan Chase, the New York State CASE Center, the U.S. Air Force Research Laboratory's (AFRL) Information Directorate, and other agencies and companies to form a community of practice in information and systems assurance and trust. For more information, visit http://cisat.syr.edu.  

The Center for Applied Identity Management Research (CAIMR) is a public-private partnership of cross-disciplinary experts conducting applied research to solve the current and future identity management challenges of the digital world. CAIMR identifies key identity management challenges and the existing gaps in knowledge surrounding them in order to provide the much-needed applied research to properly address them. CAIMR's partners are Equifax, IBM, Intersections, Indiana University, LexisNexis, Symantec, The University of Texas at Austin, the U.S. Secret Service, Visa, Dragnet Solutions, Experian, FICO, InfoZen, Initiate Systems, Syracuse University, the University of Arkansas at Little Rock, the University of Tulsa, the U.S. Department of Defense, the U.S. Marshals Service, the U.S. Department of Veterans Affairs, Wells Fargo & Co., the Identity Theft Assistance Center (ITAC), the National Center for Missing and Exploited Children (NCMEC) and TechAmerica. For more information on CAIMR, visit: http://www.caimr.org (Twitter handle: @CAIMR).