Arts & Culture
Young cellists to convene in Syracuse on Nov. 14 for Cello Fest; event to feature concert by renowned cellist Jeffrey Solow
Approximately 50 young cellists from across New York State will come to Syracuse on Saturday, Nov. 14, for Cello Fest, a daylong session of workshops at the Rose, Jules R. and Stanford S. Setnor School of Music in Syracuse University's College of Visual and Performing Arts. The event will culminate in two public concerts, including one by internationally known cellist Jeffrey Solow, one of the festival's guest clinicians.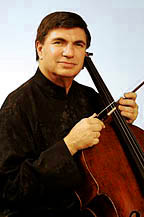 Participants in Cello Fest range from elementary school students to college students, as well as professional teachers. The festival, which is the first of its kind in the Syracuse area, is sponsored by the Setnor School's music education department, the New York American String Teachers Association, Pennsylvania Performing Arts on Tour (PennPat) and the Oswego Community Youth Orchestra.
On Nov. 14 at 4 p.m., the festival participants will present a free concert in the Rose and Jules R. Setnor Auditorium, Crouse College. Parking is available in the Irving Garage.
On Nov. 14 at 7 p.m., Solow will present a concert at Park Central Presbyterian Church, 504 E. Fayette St. Tickets are $10 and can be purchased at the door. Free parking is available behind the church. Cello Fest participants will join Solow at the end of the concert.
Solow has performed throughout the United States and Canada and in Europe, Latin America and the Far East, including appearances with the Los Angeles Philharmonic (also at the Hollywood Bowl), Japan Philharmonic, Seattle Symphony, Milwaukee Symphony, Los Angeles Chamber Orchestra and the American Symphony, with which he also recorded. He is a frequent guest artist at national and international music festivals and two of his many recordings were nominated for Grammy Awards. He is professor of cello at Temple University in Philadelphia, president of the American String Teachers Association and president of the Violoncello Society, Inc., in New York City. To learn more about Solow, visit http://www.solowcello.com.
For more information about Cello Fest, contact the Setnor School at 315-443-2191.