Campus & Community
WCNY's 'Ivory Tower Half Hour,' hosted by Newhouse's Rubin, celebrates 300th episode
WCNY's "The Ivory Tower Half Hour"—an engaging round-table discussion hosted by David Rubin, interim director of SU's Goldring Arts Journalism Program and former dean of the Newhouse School—celebrates its 300th episode on Friday, Nov. 13, at 8 p.m.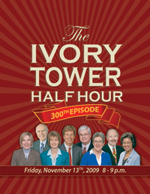 "The Ivory Tower Half Hour" first aired in 2002 and continues to be WCNY's most trusted and thorough commentary on local, regional and national major news events.  Six regular panelists from Central New York colleges and universities engage weekly in lively discussions on newsworthy topics.
The panelists include Kristi Andersen, professor of political science at the Maxwell School; Tim Byrnes, professor of political science at Colgate University; Lisa Dolak, the Angela S. Cooney Professor of Law at the SU College of Law; Bob Greene, The Paul J. Schupf Professor of History and Humanities at Cazenovia College; Tara Ross, professor of history at Onondaga Community College; and Bob Spitzer, Distinguished Service Professor of Political Science at SUNY Cortland.  Barbara Fought, associate professor of broadcast journalism and director of the Tully Center for Free Speech at the Newhouse School, is occasionally featured as a guest host.
"Hosting 'Ivory Tower' has been a privilege and a challenge, but primarily great fun," says Rubin. "Who wouldn't want a platform to discuss Bush and Obama, Iraq and Iran, Hurricane Katrina and Eliot Spitzer, the Destiny fiasco and our embarrassing state Senate?  We've had an amazing run of stories in the past seven-plus years, and we hope we've shed a little light and heat on all of them."
"We are very proud to be celebrating the 300th episode," says Doug Moreau, producer for "The Ivory Tower Half Hour." "The program reflects what is really happening in the news today, and the panelists provide entertaining and informative insights that help connect the community to these pertinent issues."  
The Nov. 13 show will be produced before a live studio audience; the show will be followed by a special live, televised half hour of feedback and reaction from audience members.
"The Ivory Tower Half Hour" airs on WCNY 24.1 on Fridays at 8 p.m.  The latest show webcast is available online at www.wcny.org/ivorytower.
WCNY broadcasts television programming on "Main Channel" 24.1 in Syracuse, WCNY2, and digital channels: Your TV 24.2, Cinema 24–24.3, and WCNY-HD–24.4. All channels are carried by 33 cable carriers, including Time Warner Cable.