Health & Society
Tennis, everyone! Inclusion Tennis Program teaches skills to those with disabilities
Visiting instructor Delynn Orton's goals at the Syracuse University School of Education are similar to many educators who embrace the school's legacy of inclusion and community engagement. Unlike other faculty members, though, Orton's inclusion tools include tennis racquets.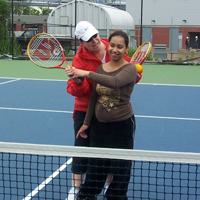 Modeled after perceptual-motor programs, including the internationally known movement education program by Jack Capon, the Inclusion Tennis Program (ITP) began at SU this past spring. Orton was encouraged by the suggestion from Corinne Smith, professor and chair of teaching and leadership, to design a physical activity course where all students were included as true participants and could participate in learning, teaching and demonstration activities. With assistance from Joe Lore, director of SU Recreation Services, and Eliza Decker, assistant director, who accommodated off-campus individuals and provided gym space whenever needed, this innovative and collaborative program was launched.
Orton has taught physical education classes in the Department of Health and Exercise Science since fall 2006. She has developed tennis programs for several national, regional and local organizations, including Special Olympics, USTA, NYC schools, Challenger Tennis, the Arthur Ashe Foundation, the Syracuse Veterans Administration Medical Center and Say Yes to Education. She currently serves as a member of the U.S. Tennis Association National Committee for Adaptive Tennis and USTA Eastern,  and is chairperson for Adaptive Tennis. She provides clinics for adapted tennis instruction and pedagogy, and wheelchair tennis, and is the regional tennis trainer for New York Special Olympics.
The ITP goals: to allow students in Orton's "Adapted Physical Education" (APE) course significant time with students with disabilities and include all students in a six-week progressive and sequential tennis instruction program. The "Adapted Physical Education" (APE) students—many of them SU student-athletes and students interested in becoming coaches or physical education teachers—learned to teach various psychomotor skills while encouraging participation and demonstration through sports and fitness activities. The APE students were included with students from On-Campus, a post-secondary education partnership program for students with disabilities from the Syracuse City School District hosted at SU. On-Campus program director Joseph Soule provided guidance for the inclusion model used. "Inclusion is not an interesting new development. It is important, just and democratic," says Douglas Biklen, dean of the School of Education. "That it does not happen enough is cause for us to respond, as Delynn has."
At the start of the ITP, all students' tennis skills were assessed at the beginner level. Instruction was built on understanding and practicing agility, balance, coordination, spatial awareness and fitness skills. Social development was also a large component. All participants developed relationship-building skills and realized the importance of creating a caring and nurturing environment for optimal learning. The program was designed to present challenges to all participants. For some, the physical demands of the curriculum were more challenging. The naturally stronger athletes in the class were forced to think critically about how adaptations could be made in order to teach skills and fitness concepts to others.
For the students, who seldom have opportunities to be included in typical classrooms and sports, the social experience and team atmosphere may have held more value than the fitness skills learned. "The APE class got me off my behind," says On-Campus student Scott Floyd, who communicates through typing with facilitation. "The students and Delynn care about students … I loved being included."
For future educators in the group, the experience demonstrated that everyone can be included in physical activity when properly designed. "I've learned how to adapt equipment, environment and instruction to allow and encourage participation by a wider range of students," says Ryan Weiss, a senior physical education major in the School of Education. "For example, I might adapt the equipment and rules of a ball game by incorporating larger, easier-to-handle balls, and stipulating that each team member must touch the ball at least once before scoring."
"The experiences I've had with the students we worked with opened my eyes to how easy it can be to include all students and improve their educational experience," Weiss says. "Their appreciation and development eliminate the question of whether inclusion is important in physical education class; it clearly is."
At the end of the semester, ITP classes focused on applying learning style differences and practicing tennis with modified equipment, nets, court sizes and rules. All students demonstrated success hitting consecutive balls with a partner, serving and rallying, and determining whether or not a point was won. "When the On-Campus students first started, they struggled a lot with the skills, but by the end they became pretty proficient in hitting the ball back and forth," says junior physical education major Erin Schirm. "I think the greatest benefit for the students was the sense of being part of the class. I think this is where we need to be with getting everyone involved and included."
Orton's commitment to adaptive sport does not end in the classroom, or with tennis. APE students are assigned 20 hours of "outside experience," supporting wellness activities with people with disabilities, though many did more. Students engaged in activities such as personal fitness training, attending SU sporting events or taking advantage of planned activities like volunteering in the community.
Throughout the semester, APE students kept journals of their experiences learning tennis with the On-Campus students and participating in activities with community members with disabilities. Prior to APE, many of the students had never experienced learning or working in an inclusive environment. Consequently, each student's log reflected an understanding of the meaning of inclusion, how creation of successful and inclusive classrooms is possible with simple adaptations to the curriculum, and how inclusion is worthwhile in sport and physical education. "Often, we judge others by their outward or physical appearance," Orton says, "but while playing, we are free to dream who we want to be."