Syracuse Stage plans one-day holiday sale for Monday, Nov 16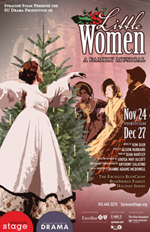 For more than 30 years, families have been delighted by the annual holiday musical at Syracuse Stage. This year, for one day only, Stage is offering the best prices of the season for select performances of "Little Women." Brimming with 20 beautiful songs, this new musical captures all the struggle, romance and deep emotions of Louisa May Alcott's beloved tale. Half-price tickets will be available from 12:00 a.m. – 11:59 p.m. on Monday, Nov. 16, for the following performances:
Tuesday, Nov. 24, at 7:30 p.m.
Saturday, Nov. 28, at 3 p.m.
Saturday, Nov. 28, at 7:30 p.m.
Sunday, Nov. 29, at 7 p.m.
This offer applies only to regular adult prices. Tickets for children (under 18) are $16 for all performances. To take advantage of the one-day holiday sale, visit http://www.SyracuseStage.org on Nov. 16, choose one of the performances listed above, and enter the validation code 'Holiday.' Tickets can also be purchased in person at the Syracuse Stage Box Office, from 10 a.m.-6 p.m. on that day. For more information, call the Syracuse Stage Box Office at (315) 443-3275.
The lush, soaring music in "Little Women" received the Richard Rodgers Award for Best Musical Score. Filled with music and dance, "Little Women" is directed by Anthony Salatino with a cast comprised of professional actors and SU Drama students. All of Louisa May Alcott's classic characters are here: warm and loving Marmee, vivacious Amy, sweet and dreamy Meg, tender-hearted Beth, handsome and charming Laurie, Aunt March, Professor Bhaer and of course the passionate and funny Jo. Celebrate your holidays with the March family.
For more information visit www.SyracuseStage.org.