Health & Society
SU Sport Management Club's fifth annual Charity Sports Auction to benefit Ronald McDonald House Charities of Central New York
The Syracuse University Sport Management (SPM) Club will hold its fifth annual Charity Sports Auction on Saturday, Dec. 5, at the Carrier Dome. Silent bidding on hundreds of auction items–including sports memorabilia and hands-on experiences, electronics and tickets to major sporting events–will take place in the backcourt during the SU men's basketball game against the University of Maine.
Doors will open for the auction at 5 p.m. through Gates A, B, C & E. All other gates will open as usual at 5:30 p.m., prior to the start of the game.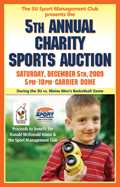 Proceeds from this year's auction will benefit the Ronald McDonald House Charities of Central New York and the SPM Club, a student-run organization in the College of Human Ecology's David B. Falk Center for Sport Management. Since its founding in 2005, the club has raised more than $75,000 for local charities, such as the Syracuse Boys & Girls Clubs, the American Diabetes Association of Central New York and the Golisano Children's Hospital at Upstate.
The SPM Club was recognized with a 2009 Chancellor's Award for Public Engagement and Scholarship and most recently received the 2009 Orange Circle Award from the SU Alumni Association to honor SU alumni, friends, faculty, staff and students who have achieved extraordinary accomplishments in support of others.
"The commitment of our students to this event is well beyond an experiential learning experience," says Kate Futrell, manager of the career center and event planning for the Department of Sport Management and 2010 auction chair. "For our students, this event is an important opportunity for them to make a difference in the Syracuse community. We truly couldn't be prouder of each and every one of them and the amazing event they are organizing."
The CNY Ronald McDonald House provides housing for families traveling from at least 25 miles away while their children are hospitalized with serious illnesses and injuries. Guest families receive home-cooked meals, a warm bed and a place to relax and rejuvenate, as well as a place to connect with other families of seriously ill children. The Ronald McDonald House works in partnership with SUNY Upstate Medical University, St. Joseph's Hospital Health Center, Crouse Hospital and the Golisano Children's Hospital at Upstate.
The purchase of a game ticket for the Dec. 5 Syracuse men's basketball game will include access to the charity sport auction. Tickets can be purchased on the SU Athletics website or at the Carrier Dome Box Office. Tickets can also be ordered by phone at 1-800-DOMETIX.
Follow the SU Charity Sports Auction on Twitter at http://twitter.com/suspmauction.