Health & Society
School of Education's reading and language arts department to facilitate community writing workshop event for Syracuse teens Nov. 7
Faculty and students from the Syracuse University School of Education graduate-level course EDU 614, "Composing Processes," in the department of reading and language arts, will facilitate a community writing workshop event at the Dunbar Community Center in Syracuse, on Saturday, Nov. 7, from 10 a.m.- 1 p.m. This event, "Writing for Our Selves," is open to students, grades 6-12, from the greater Syracuse area, including students from the Syracuse City School District and select surrounding schools and districts.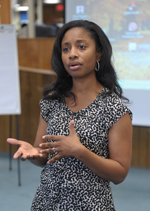 Marcelle Haddix, assistant professor of reading and language arts, organized the conference with the help of her students. "There's been an expressed need by Syracuse community members, including young people, their parents, teachers and school administrators, to focus more on writing," says Haddix. "This event is in response to that. We want to foster a greater appreciation for writing, and we want young people to own their writer's identity and to know that they have a voice."
Workshops will be taught by writing specialists, teachers and preservice teachers. Presenters include SU faculty and students from reading and language arts in the School of Education; composition and rhetorical studies in The College of Arts and Sciences; and journalism in the S.I. Newhouse School of Public Communications. The event will include a Writing Resource Fair and a keynote performance from the spoken word artist group Verbal Blend, led by Cedric Bolton of SU's Office of Multicultural Affairs.
Students will participate in two 50-minute workshops, addressing both academic and creative writing themes. Workshops will be organized into three student groups: grades 6-8, 9-10 and 11-12. Writing workshop topics will include: claiming one's writer's voice; organizing one's writing; writing for multiple purposes and audiences; writing the college essay; the power of language in writing; spoken word poetry; journalism 101; telling your story; and grammar, punctuation & spelling.
On-site registration will begin at 9:30 a.m. Participants will be provided a light breakfast and lunch. The conference, materials and meals are provided to the students free of charge. Co-sponsors of the event include the Reading and Language Arts Department at the School of Education, the Partnership for Better Education, the STEP Program (Science and Technology Entry Program) at SU and the Dunbar Community Center.