Campus & Community
Syracuse iSchool team grows facial hair to fight men's cancer
The men of Hinds Hall are sporting more facial hair than usual this month, and it's no coincidence—it was planned for a good cause. A team of students, faculty and staff from the Syracuse University School of Information Studies (iSchool) have come together to participate in an international month-long charity event called Movember.
The word "Movember" is a combination of "mo" (Australian slang for mustache) and "November." Movember participants spend the month of November growing mustaches to call attention to men's health issues, specifically prostate and testicular cancer.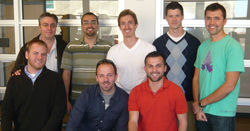 "It's nice to be able to address such a heavy issue with a light approach," says Shay Colson G'10, a master's student in the information management program. He is one of about 20 people from the iSchool who are participating in Movember.
The iSchool's Movember team includes a broad cross-section of students as well as staff and faculty members. There are even a few females on the team, like Leslie Tabor G'10, a master's student in the library and information science program. Though Tabor is unable to grow facial hair, she is participating by not shaving her legs. "It's a nice way to build community," Tabor says. "We're getting to know each other outside of the classroom, having fun and supporting a good cause."
Movember is an international event that started in Australia in 2003. A group of friends wanted to bring mustaches back into the mainstream and decided to justify their new facial hair by raising money for prostate cancer research. Other countries realized the potential of Movember, and the event has since spread to the United Kingdom, Canada, the United States and Ireland. This year, Movember added six new countries to its campaign, including South Africa and several European nations. Movember has raised $47 million globally since it started, making it the world's largest charity event for men.
The iSchool Movember team didn't set out to raise money at first. Initially, the teammates just wanted to promote awareness of men's cancer and enjoy themselves in the process. But after registering as a team on the Movember website, they received a couple of unexpected donations. A family member heard about the team's efforts and donated money to the cause.
Now the team is looking into creating T-shirts, which will be sold to raise money for Movember's beneficiary charities, the Prostate Cancer Foundation and the Lance Armstrong Foundation. There are also tentative plans in the works for an end-of-month gala party called the Mustachio Bashio. The Mustachio Bashio will be held Tuesday, Dec. 1, from 4-6 p.m. in the student lounge in Hinds Hall and will be open to the broader SU campus community.
The team hopes to make Movember an annual iSchool tradition. "It's been great to watch it take off," says Andrew Farah G'11, a master's student in the information management program. "The event been growing organically," he adds, explaining that he and his teammates have run into other participants they've never met before both within the iSchool and across campus.
"Women's health issues like breast cancer get so much attention," Tabor says. "Men's health is just as important, and there aren't a lot of organized movements like this. Even if we don't raise a million dollars, every little bit helps."
To join the iSchool Movember team or donate to their efforts, visit http://us.movember.com/mospace/members/search/q/imocuse.