iSchool helps establish youth literature collection on campus
One of the Syracuse University Library system's lesser-known collections is a hidden trove of children's books. The youth literature collection was the brainchild of Ruth V. Small, Meredith Professor at Syracuse University's School of Information Studies (iSchool).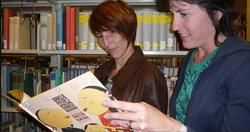 Small, who is also the director of the Library and Information Science's School Media Program and the director of the Center for Digital Literacy (CDL), wanted to create a collection of materials for students who aspire to work as teachers; school librarians or children's librarians in public libraries; children's book authors or illustrators; and reading teachers.
The collection started several years ago when Small discovered that the children's literature collection in Huntington Hall had been eliminated, when the building was renovated. She realized that there was no longer a place on campus where students could find children's books for completing course assignments and projects, and wanted to do something about it.
Small put out an appeal to school media alumni to help fund the collection's development. Several alumni responded, including Rosemary Scalessa G'72. Scalessa made a donation in honor of her favorite iSchool professor, Dorothy McGinniss. McGinniss' passion for children's literature inspired Scalessa. After earning a master of library science degree at the iSchool, Scalessa undertook a successful 35-year career as a children's librarian and school media specialist. Scalessa wanted her gift to perpetuate the late McGinniss' legacy of children's librarianship.
CDL earmarked the McGinniss legacy gift to purchase books written or illustrated by local Syracuse authors and artists. One recent purchase is "March On!: The Day My Brother Martin Changed the World" (Scholastic Press, 2008), written by Christine King Farris and illustrated by London Ladd, who lives in Syracuse. "March On!" was Ladd's first picture book, and its illustrations received overwhelmingly positive reviews.
The youth literature collection has also grown thanks to the generosity of several children's publishers. Small wrote to a handful of publishers and asked them to contribute to the collection. Publishers have been sending boxes of children's books to CDL regularly. Small estimates that the Youth Literature Collection now includes roughly 500 titles, ranging from books in foreign languages to graphic novels.
Small hopes to see the youth literature collection expanded to include books that spotlight underrepresented groups, such as the Onondaga people, who are one of the original five nations of the Iroquois and hail from the Syracuse area. Another possible area for growth includes children's books about people with disabilities or written by authors with disabilities. "There are so many possibilities for growth," Small says. "We're open to all kinds of children's books."
The collection is now a collaborative project administered jointly by both E.S. Bird Library and CDL. Librarians Natasha Cooper and Kelley Lasher are currently working with CDL assistant Jennifer Sullivan G'09 to catalog and process new acquisitions. The books are located on the 5th floor of Bird Library and can be found in the library's SUMMIT catalog by searching for the keyword phrase "youth literature collection."
Small says the youth literature collection is an underused resource on campus. It is an ideal resource for aspiring school media specialists, who can incorporate the books into their lesson plans or use them to complete assignments. The collection can also be used by education majors and students who aspire to become children's authors or illustrators. Faculty and staff who don't have time to make it to the public library can browse the campus collection and check out books for their children. "We want to spread the word about this collection so that everyone can take advantage of it," Small says.
Small credits University Librarian Suzanne Thorin for nurturing the youth literature collection's development. "We're grateful for her insight and vision for this project," Small says. "Not many academic libraries acknowledge the benefits of children's literature, but she recognized that it could be an asset to the University."