Campus & Community
SU's Pulse Performing Arts Series presents jazz trumpeter Chris Botti as part of SU Family Weekend Oct. 25
Jazz trumpeter Chris Botti will perform a Family Weekend concert on Sunday, Oct. 25, as part of the 2009-10 season of Syracuse University's Pulse Performing Arts Series. The concert will take place at 2 p.m. in Goldstein Auditorium in the Hildegarde and J. Myer Schine Student Center.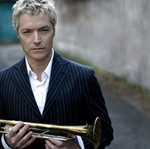 Tickets for the performance are $5 for students with SU I.D. (limit one per person); $16 for SU faculty, staff, alumni, Pulse Partners and SU Family Weekend registrants; and $20 for the general public. Tickets can be purchased at the Schine Student Center Box Office; for more information, call (315) 443-4517. Free parking is available in the Lehman and Harrison lots.
"We are absolutely thrilled to welcome our guests for Family Weekend this year," says Colleen O'Connor Bench, director of the SU Parents Office. "It's a pleasure to produce this fun-filled weekend for students and their families to reconnect and share time together. We have planned a variety of interesting and exciting events for the weekend, and Chris Botti's performance is sure to be a highlight."
Botti is a gifted instrumentalist, talented composer and charismatic performer who has sold nearly three million albums worldwide. Since the release of his first solo album in 1995, he has created a series of recordings that have made him one of the world's top-selling instrumental artists.
Drawing from pop, jazz, classical and other genres, his signature sound transforms contemporary jazz while simultaneously finding success in the pop music sphere. He has earned critical acclaim and mainstream appreciation for his music. His association with the artist Sting, who has appeared on two of his albums, dates back to 1999 when Botti joined the music legend's band as a featured soloist on the "Brand New Day" tour. Botti's "What Are You Doing for the Rest of Your Life?" (with vocals by Sting) earned a Grammy for Best Instrumental Arrangement Accompanying Vocals in 2005.
Pulse, presented by SU's Division of Student Affairs, provides SU undergraduates and, in turn, the Central New York community with out-of-classroom opportunities to attend and participate in programs, performances, exhibitions and events in the performing and visual arts. It is a model program, recognized for quality, diversity, innovation and collaboration, while it celebrates and expands the cultural climate of Syracuse University.
The Pulse series seeks to raise the caliber of cultural programming while increasing the number of participating students, and programs the best offerings of local arts organizations with performances of internationally renowned visiting artists. For more information, visit http://pulse.syr.edu, e-mail pulse@syr.edu or call 443-2718.