Campus & Community
SU to host LGBT activist Lt. Daniel Choi
The Syracuse University Lesbian, Gay, Bisexual and Transgender (LGBT) Resource Center will sponsor a lecture by Lt. Daniel Choi on Thursday, Oct. 22, at 7:30 p.m. in Hendricks Chapel. Choi's lecture, "Truth and Consequences: One Man's Fight to Openly Serve His Country," will detail his story as a West Point graduate, an Iraq War veteran and an openly gay Korean American.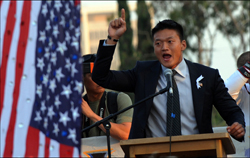 On March 19, 2009, Choi announced that he was gay on The Rachel Maddow Show. Because of three words—"I am gay"—Choi's life changed forever. Despite his value as a fluent Arabic speaker, one month after his announcement, Choi was notified that the Army had begun discharge proceedings against him. He was one of only eight soldiers from his graduating class who majored in Arabic.
Choi served for a decade under the "Don't ask, don't tell" policy, which prohibits homosexual or bisexual people from disclosing their sexual orientation while serving in the U.S. armed forces. Choi opposed the policy's implicit demand that LGBT members of the military be asked to lie about or hide their sexual orientation, when they are required to be fully honest and forthcoming in all other matters. Determined to apply the leadership skills he learned at West Point and advocate for other gays and lesbians in the military, Choi helped form Knights Out, an organization of West Point alumni that advocates for the rights of gays and lesbians to serve openly in the military. An official Knights Out T-shirt bears its message: "Don't hide".
This event is co-sponsored by Asian Students in America (ASIA), Delta Lambda Phi (DLP), the Division of Student Affairs, the Intergroup Dialogue Program, Kappa Phi Lambda (KPL), the LGBT Studies Program, the Office of Multicultural Affairs, Nu Alpha Phi (NAP), Pride Union and the Residence Hall Association.
A unique campus dialogue opportunity will immediately follow this lecture. Facilitators from SU's Intergroup Dialogue Program (IGD) will introduce the concepts of dialogue used in intergroup dialogue courses, will aid participants in reflecting upon critical issues that the lecture raised in a constructive and positive setting, and will offer participants the opportunity to continue to engage in dialogue and follow-up action. Participants interested in a one-hour small group dialogue following Choi's lecture should sign up prior to the lecture at the table outside of the lecture hall. These dialogues will not be open to the media.
This lecture is free and open to all SU and SUNY-ESF students, faculty, staff and Syracuse community members. Parking will be available in the Irving Garage at the reduced rate of $3.50/vehicle; those with mobility limitations or disabilities, with proper identification, can be directed to the Q-1 lot.