Arts & Culture
Scholar, activist Angela Davis gives free lecture at SU Oct. 19
Scholar and activist Angela Davis will deliver a free lecture at Syracuse University, as part of her month-long Visiting Distinguished Professorship in the Departments of Women's & Gender Studies (WGS) and African American Studies (AAS). The lecture, titled "Feminist Methods and Contemporary Quests for Social Justice," is Monday, Oct. 19, at 5 p.m. in the auditorium (Room 001) of the Life Sciences Complex. The event is free and open to the public, and is presented by WGS and AAS, with generous support from the chancellor's office. For more information, call (315) 443-3707.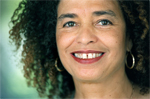 Davis is in the second of a three-year professorship in WGS, done in partnership with AAS. Both WGS and AAS are housed in The College of Arts and Sciences.
"Angela Davis is a revolutionary scholar-activist whose legacy spans several generations," says WGS professor and department chair Chandra Talpade Mohanty. "Her work on behalf of racial, class and gender equality, LGBT rights, and prison abolition has redefined the possibilities of social and economic justice. She has proven that by nurturing solidarity work in the context of art, education and organizing, walls can turn into bridges."
Davis shot to fame during the Civil Rights Movement through her associations with the Black Panther Party for Self Defense and the Student Nonviolent Coordinating Committee. She achieved further notoriety in 1970, when a gun allegedly belonging to her was used to kill a California superior court judge. An intense manhunt ensued, after which she was captured, arrested, tried and acquitted in one of the most famous cases in recent U.S. history.
AAS professor and department chair Bill Cole was then one of many young African Americans captivated by Davis' moxie. "Her courage and strength was a beacon of light amid the oppression that all black people felt," says the renowned author and musician. "Angela Davis stood up against all the power of the government and survived." Cole says he is excited to have her return to campus.
As professor emerita of history of consciousness and feminist studies at the University of California at Santa Cruz, Davis specializes in feminism, African American studies, critical theory, popular music culture and social consciousness, and philosophy of punishment. She also is a best-selling author and sought-after speaker. Davis made headlines last fall, when she visited Ed Smith Elementary School in Syracuse and talked about growing up in racially divided Birmingham, Ala. Earlier this year, she delivered keynote addresses at Louisiana State University and at the University of Virginia.
Mohanty sees Davis' visit to SU as an example of the Chancellor's commitment to a diverse and engaged campus, bringing together students and faculty members to address critical questions and challenges facing society. "Angela's scholarship and activism demonstrate a rigorous analysis of race, gender, sexuality and nation, anchored in the epistemologies of marginalized communities around the world," says Mohanty, adding that the Sorbonne-trained icon is well known for encouraging critical thinking and accountability. "At the end of the day, we are committed to multiracial, transnational education, of which Angela is a leading proponent."