Arts & Culture
Renowned marimba artist Janis Potter to present master class Oct. 13
Janis Potter, one of America's most in-demand solo marimba artists, will present a master class on Tuesday, Oct. 13, from 11 a.m.-1 p.m. at the Rose, Jules R. and Stanford S. Setnor School of Music in Syracuse University's College of Visual and Performing Arts (VPA). The clinic, which is free and open to the public, will be held in Room 400 of Crouse College. Paid parking is available in the Irving Garage.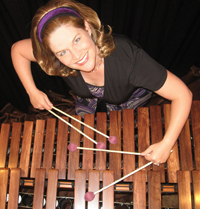 Best known for her varied repertoire and energetic style, Potter has more than 250 recitals and master classes and 30 concerto performances to her credit. She has performed and lectured at more than 50 major universities in nearly every state in the United States and is currently planning her international marimba debut in Japan for spring 2010. She has been presented at five Percussive Arts Society (PAS) International Conventions, as well as many state and local PAS events, and she has had several articles published in Percussive Notes magazine.
Potter has won awards and grants from such prestigious organizations as the Sony Corp., the Carnegie Foundation, the Myra Hess Foundation and Glamour magazine. She has also been presented by renowned venues such as the Montpelier Cultural Arts Center, the Phillips Collection, the Library of Congress and the Corcoran Gallery of Art. Her recordings are often aired on National Public Radio, and she has performed in several television specials for PBS.
Potter served five years with "The President's Own" United States Marine Band in Washington, D.C., having played percussion at the White House, the U.S. Capitol and many other venues, including three national concert tours. She was a featured soloist with the band at the College Band Director's National Association Convention, performing Thea Musgrave's "Journey through a Japanese Landscape" for marimba and wind ensemble, which is now available on a live recording from Marc Records.
Potter released her first solo CD, "Marimba Tracks," in 2000 and her second CD, "Variations in Blue," in 2004. She has published several transcriptions and arrangements for marimba and is planning to release at least three new publications in 2010, including the much anticipated Carmen Variations of Horowitz. She has a signature series of mallets produced and distributed internationally by Innovative Percussion.
The master class is sponsored by the Setnor School of Music, with additional support from Dynasty and Innovative Percussion. For more information, contact the Setnor School at (315) 443-2191.