Arts & Culture
John Coltrane Memorial Contemporary Jazz Series kicks off second season Nov. 13
A group of New York City-based jazz musicians—the WIS Brass Project ensemble—will kick off the second annual John Coltrane Memorial Contemporary Jazz Series Friday, Nov. 13, at 7 p.m. in the Paul Robeson Performing Arts Company Black Box Theater Dee-Davis Room, 805 E. Genesee St., Syracuse. The concert will feature the world premier of "Up River," composed by jazz percussionist and drummer Warren Smith. The concert is free and open to the public.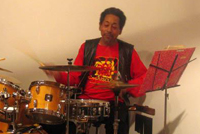 Coordinated by William Cole, professor and chair of the Department of African American Studies in Syracuse University's College of Arts and Sciences, the Coltrane Jazz Series is sponsored by SU's Office of the Chancellor and the Department of African American Studies and the iLearn Program in The College of Arts and Sciences.
The WIS Brass Project ensemble will feature Smith, jazz trumpet and flugelhorn players Eddie Allen and Stanton Davis, bass trombonist Jack Jeffers, French hornist Mark Taylor, and tuba players Joseph Daley and Howard Johnson.
"Creative artists are frequently inspired by their association with other artists," Warren says. "All of the members of the WIS Brass Project are experienced leaders of their own ensembles, and are accomplished composers and recording artists. Their eclectic musical styles and abilities in free improvisation promise to make this concert one to remember."
"Up River" was commissioned for the 2009 Coltrane Jazz Series. The six-part piece portrays the migration of black people and their rich musical heritage from the Deep South to Midwestern cities. Each part pays tribute to the music of the blues singers involved in this cultural migration, including Howlin' Wolf, Muddy Waters, James Brown, Bo Diddley, Coco Taylor and Aretha Franklin.
About the musicians
Warren Smith
Born in Chicago, Smith entered the professional music world when he was 14, working in various family bands during the late 1940s and later with Captain Walter H. Dyett's concert and marching bands. Influential in the development and definition of Afro-American music, Smith relocated to New York City in 1957, where he completed a master's degree in music at the Manhattan School of Music. He has played with some of the world's most renowned musicians in recording studios, on Broadway and television, and in live concerts across the United States and Europe, including Gladys Knight and the Pips, Dionne Warwick, Harry Belafonte, Nat King Cole, Barbra Streisand, Marvin Gaye, Tammy Terrell and Aretha Franklin.
Smith worked on Broadway into the 1990s and continues to compose and perform with contemporary jazz musicians, as well as with a number of classical ensembles. He taught in the New York City public school system from 1958-68, at Third Street Settlement from 1960-67, at Adelphi University in 1970-71, and at the  SUNY College at Old Westbury from 1971 until his retirement in 1996.
Eddie Allen
Trumpeter, composer and educator Allen studied music, theory and arranging at the Wisconsin Conservatory of Music in Milwaukee and the University of Wisconsin in Green Bay before moving to the East Coast, where he attended the William Paterson University of New Jersey and received a bachelor's degree in music.
Allen has worked with such jazz greats as Art Blakey, Joe Henderson, Randy Weston, Dizzy Gillespie, Frank Foster, Billy Harper, Henry Threadgill and Steve Turre. He has recorded and performed with, as well as composed for Louis Hayes, Lester Bowie, Etta Jones and Houston Person, Mongo Santamaria and Muhal Richard Abrams, to name a few.
Allen has also performed in the orchestras of such Broadway hits as "Ain't Misbehavin'," "Black & Blue," "Side Show," "Jelly's Last Jam" and "Five Guys Named Mo." He is currently leading a quartet, a quintet, an Afro-Cuban/Brazilian Ensemble and a 16-piece big band.
Joseph Daley
Tuba player Daley is a musician, composer and educator specializing in new and contemporary music, jazz and improvisation. He holds a master's degree in music education from the Manhattan School of Music and has received fellowships in music composition from the National Endowment for the Arts, the MacDowell Colony, Music Omi and the Geraldine R Dodge Foundation.
In addition to his 30 years as a music educator, Daley has performed, recorded and toured the world with Muhal Richard Abrams, Bill Cole, the Far East Side band, Sam Rivers, Ellery Eskelin, the Liberation Music orchestra, Gil Evans, the Taj Mahal Tuba Band, the Ebony Brass Quintet and Cecil Taylor, among others.
Stanton Davis
The musical career of Davis, a New Orleans-born jazz trumpeter, spans more than 30 years. A graduate of the New England Conservatory of Music and Wesleyan University, Davis has been steeped in the fluid sounds of jazz, blues, soul and R&B from his early life in the Crescent City. He has performed, toured or recorded with a plethora of jazz groups, including the Mercer Ellington Orchestra, the Lionel Hampton Orchestra, George Russell's Living Time Orchestra, Mongo Santamaria's Orchestra, Mario Bauza and his Afro-Cuban Jazz Orchestra, Lester Bowie's Brass Fantasy and bassist Charlie Haden's group.
Davis has appeared as a soloist on "David Sanborn's Night Music" on NBC, and has performed in concerts with jazz artists such as George Gruntz, Jim Pepper, Bob Stewart, David Murray and Max Roach. He has played in pit orchestras for numerous shows, including "Jelly's Last Jam," "Black and Blue," "Ain't Misbehavin'" and "Sophisticated Ladies."
Howard Johnson
One of the top tuba soloists since the early 1960s, Johnson is a versatile player who not only plays tuba and baritone but also reed instruments and the trumpet. He moved to New York in 1963, where he worked with Charles Mingus, Hank Crawford and Archie Shepp and has been associated with Gil Evans. Johnson's four-tuba group, "Substructure," performed with Taj Mahal, and, in the late 1970s, he formed the tuba band "Gravity," which recorded and played at the Monterey Jazz Festival in 1996. Johnson has recorded with Jack DeJohnette's "Special Edition," Jimmy Heath, Bob Moses, George Gruntz's Concert Jazz Band and frequently with Evans' orchestra, among others.
Jack Jeffers
Bass trombone and tuba player Jeffers' accomplishments range from building jet airplanes and earning degrees in law, to a prominent studio and Broadway career. He has recorded and performed with such jazz greats as Lena Horne, Clark Terry, Count Basie, Thad Jones, Maynard Ferguson, Don Cherry and Dizzy Gillespie.
He is also co-leader of the Duke Ellington orchestra and has written music for a diverse range of organizations and performers, including the Boys Choir of Harlem and the Black Music Repertory Ensemble. Jeffers has served as musical director and conductor for the Broadway Cares-Equity Fights AIDS benefit and "Broadway Salutes the Spirit of Harlem" at the Apollo Theater. Other director/conductor credits include two contemporary operas: "Long Tongues" by Julius Hemphill and "The E & O Line" by Anne LeBaron, and two Broadway shows: The Wiz" and "The Boy's Choir of Harlem on Broadway."
He continues to perform in New York City at the Birdland Jazz Club with the Chico O'Farrill Afro Cuban Jazz Orchestra and leads his own New York Classics as the resident big band at Minton's Playhouse in Harlem.
Mark Taylor
Taylor is one of only a handful of performers to successfully integrate the notoriously difficult French horn into jazz and improvised music. A native of Chattanooga, Tenn., Taylor has performed and recorded with an array of modern giants, including Max Roach, McCoy Tyner, Abdullah Ibrahim, Muhal Richard Abrams and Lester Bowie. He has also appeared as a featured soloist with Henry Threadgill's "Very Very Circus," with which he toured the United States, Europe and Asia. As a member of George Schuller's post-modern big band, "Orange Then Blue," Taylor participated in a U.S. State Department tour of Turkey, Cyprus and Syria.
As leader of his own groups, Taylor has performed at jazz festivals in Europe and the United States. He has also composed for theater and dance and completed the scores for documentaries and other films, including "A String of Pearls" and "9/11: The Forgotten Underdogs."