HEAL Africa founders to speak at SU Oct. 8
On Thursday, Oct. 8, Syracuse University will host Kasereka Muhindo "Jo" Lusi and Lyn Lusi, founders of HEAL Africa in the eastern Democratic Republic of Congo. They will present "Health for a Country at War," the inaugural event of the Chancellor's Leadership Project "Regional Holocaust and Genocide Initiative: Resistance, Resilience and Responsibility." The lecture will be at 4 p.m. in the Public Events Room (Room 220) in Eggers Hall, and it is open to the public.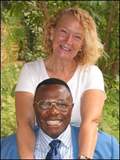 Co-sponsors of the program include the Department of African American Studies; the Center on Human Policy; the Languages, Literatures and Linguistics department; the Maxwell Executive Education programs; the School of Education; and the Department of Women's and Gender Studies.
"The HEAL Africa Program illustrates the mission of the initiative funded by a Chancellor's Leadership grant, which is to begin a campus-wide and community dialogue about past and current atrocities and ways to respond and to engage programs from different disciplines in that discussion," says School of Education Professor Emeritus Alan Goldberg.
Though the foreign conflict in Congo has ended, the resulting death and suffering in the country continue. It is estimated that more than 3.9 million people in Congo have died from war-related causes since 1998. The after-effects of the brutal war, including bad sanitation, disease and malnutrition continue to plague the nation. In parts of the Congo, rebel forces loot, rape and murder civilians at an alarming rate. HEAL Africa has responded with medical and holistic care for the victims of the ongoing struggle.
"Mass rape, which international law now recognizes as a crime against humanity and a war crime, has characterized recent wars and genocides in such places as Bosnia, Sierra Leone, Rwanda and the Democratic Republic of Congo, recently called by some the 'rape capital of the world,'" says Beverly Allen, SU professor of languages, literatures and linguistics. "Secretary of State Clinton's recent visit to Goma, in the DRC, drew global attention to this deadly atrocity once again. Dr. Jo Lusi and Lyn Lusi stand bravely at the heart of the issue in Goma, where their HEAL Africa hospital provides much-needed medical and social care for survivors. Their understanding of this scourge and what we can do to prevent it, to protect against it and to heal from it are of the greatest possible value at this point in history."
HEAL Africa's hospital and the 28 women's houses in Maniema and North Kivu provide a safe place for many victims of the war and have been a motor for combating poverty and promoting community cohesion over the past 14 years.
With support from UNICEF, the HEAL Africa hospital provides survivors of sexual violence with confidential and survivor centered services, such as psychosocial care, and appropriate medical and surgical care, including post-exposure prophylaxis (PEP), emergency contraception, testing for sexually transmitted infections (STIs) and HIV/AIDS, and fistulae repair.
Beyond medical assistance, HEAL Africa provides holistic services to survivors to support them throughout different stages of recovery, including clothing and basic household items; follow-up psychosocial services; legal assistance; and socio-economic activities to assist survivors in regaining independence and self-confidence.