Campus & Community
Dollar Day at the Dome is Oct. 24; donations benefit United Way of Central New York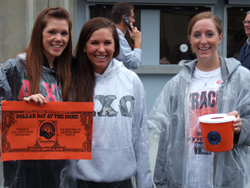 Before the Syracuse University football team kicks off against the University of Akron on Oct. 24, more than 100 student members of SU's Greek social fraternities and sororities will be stationed at Carrier Dome entrances, on the Quad and across campus soliciting donations for the United Way of Central New York.
In its 11th year, Dollar Day at the Dome is an annual fundraising event, part of SU's United Way campaign. Patrons who donate will be investing in the more than 102 local programs and services that benefit from the Central New York United Way.
Game time for the football game is 3:30 p.m., and the game is part of SU's Family Weekend. Patrons who contribute $10 or more during Dollar Day at the Dome will receive a pair of sunglasses.
SU is in the midst of its 2009 United Way campaign, "Live United, Give United," which runs for seven weeks beginning in October. Leading SU's campaign efforts this year are Deborah J. Monahan, professor of social work in the College of Human Ecology, and Patricia Stith, assistant provost for equity/inclusion in academic affairs. Monahan and Stith serve as SU's campaign chair and vice chair, respectively.
Other United Way campus campaign events include silent auctions, barbecues, a chili cook-off, basket extravaganzas, an art auction and craft fairs. Last year, SU raised more than $190,000 through campus participation in the campaign.
For more information on Dollar Day at the Dome, or the "Live United, Give United" campaign, contact Peg Northrup in the Office of Special Events at 443-5303.