Health & Society
NYS Attorney General announces new health care database to set fair out-of-network fees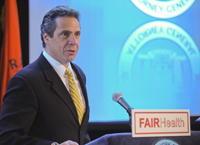 New York State Attorney General Andrew M. Cuomo announced today that Syracuse University will lead a consortium of academic researchers in partnership with a new nonprofit organization called FAIR Health to develop and maintain a new database that health insurers across the nation will use to set their out-of-network payments to physicians, hospitals and other health providers. The new payment data will also be loaded into a newly developed health information website (HIT) that will allow consumers to estimate what their out-of-pocket costs will be should they choose to go out of network for their health care. The landmark database project could benefit more than 100 million Americans.
See news release from the New York State Attorney General's Office: http://www.oag.state.ny.us/media_center/2009/oct/oct27a_09.html
The new database will replace one currently operated by Ingenix, a subsidiary of United Health Care and the nation's largest provider of health care billing information.
Along with Syracuse University, other partners in the research consortium that will develop the FAIR Health database are Cornell University, the University of Rochester, SUNY Upstate Medical University and the University at Buffalo.
The project is an outcome of a January 2009 settlement agreement reached by Attorney General Cuomo and UnitedHealth Group Inc., the nation's second-largest health insurer, following an industry-wide investigation by the Attorney General's Office into allegations that health insurers unfairly saddled consumers with too much of the cost of out-of-network health care.
According to the AG's Office, 70 percent of insured working Americans pay higher premiums for insurance plans that allow them to use out-of-network doctors (a doctor that does not have a contract with the person's health insurer). In exchange, insurers often promise to cover up to 80 percent of the "usual and customary" rate of the out-of-network expenses, with consumers responsible for paying the balance of the bill.
The Ingenix database—on which United Health Care and other large health insurers rely—uses the insurers' billing information to calculate the "usual and customary" rates for individual claims by assessing how much the same, or similar, medical services would typically cost, generally taking into account the type of service and geographical location.
In its findings, the AG's Office contended that the Ingenix database intentionally skewed "usual and customary" rates downward through faulty data collection, poor pooling procedures and the lack of audits, and as a result consumers paid more out-of-pocket costs than they should have. The AG's Office said it believed having a health insurer determine the "usual and customary" rate—a large portion of which the insurer then reimburses—can create an incentive for the insurer to manipulate the rate downward.
The new database, to be operated independently by FAIR Health, will remove this conflict of interest and will determine fair out-of-network reimbursement rates for consumers throughout the United States. The project will be supported by funding authorized under the terms of the settlement agreement; the project is anticipated to take up to five years to complete.
"FAIR Health and the upstate research network headquartered at Syracuse University will bring much-needed transparency, accountability and fairness to a broken consumer reimbursement system we have called Code Blue," says Attorney General Cuomo. "By transforming this system for consumers nationwide, New York proves its reputation as a reform leader for the nation. By spending almost $100 million in settlement proceeds from health insurers, this initiative will also create new jobs and contribute to the development of the upstate economy which is vital to New York. Today is truly a triple win for consumers, New York and the nation."
The project leader is internationally known health economist Deborah A. Freund, SU Distinguished Professor of Public Administration and Economics and adjunct professor of orthopedics and pediatrics at SUNY Upstate. "It is a true honor to be selected to do this project," Freund says. "And it always is especially gratifying when research becomes policy, as it will in this case."
Syracuse University researchers involved in the project are from the Maxwell School and the School of Information Studies (iSchool).
"This is a critical research collaboration, and it is all a result of Attorney General Cuomo's efforts to ensure consumers receive the health care reimbursements they are entitled to, and that the process is open and transparent," says SU Chancellor and President Nancy Cantor. "The project will involve the best work from our Maxwell health economists to leading technologists in our iSchool, all of whom will be joining with their colleagues from our partner universities to do this critical work. The universities engaged in this project—all of them anchor institutions in their communities across Upstate—are doing what they do best: bringing their expertise to the table and partnering with the attorney general and FAIR Health, all for the public good, and to help make Upstate New York the intellectual capital of the nation for development, use and understanding of health care data."
Maxwell participants are Badi Baltagi, Distinguished Professor of Economics; Gary Engelhardt, professor of economics; Christine Himes, professor of sociology; William Horrace, professor of economics; Thomas Kniesner, the Krisher Professor of Economics; Michael Wasylenko, professor of economics and senior associate dean; and economics graduate student Andrew Friedson and public administration graduate student Coady Wing.
Participating from the iSchool are Elizabeth Liddy, dean of the iSchool and Trustee Professor; David Dischiave, assistant professor and director of the Master of Science in Information Management program; Robert Heckman, associate professor and senior associate dean; Jeff Rubin, assistant professor; Jeffrey Stanton, associate professor and associate dean for research and doctoral programs; Arthur Thomas, professor of practice; and Howard Turtle, director of the Center for Natural Language Processing.
Among their activities in developing the database, the consortium researchers will work with insurers and all providers to ensure that the data are accurate and robust; use statistical models to make sure that all data reflect the universe of claims data from data contributors; and develop methods to pay out-of-network physicians and other providers appropriately when few procedures are done in the area where they are located.