Arts & Culture
Boston University's James Schmidt explores limits of Enlightenment Nov. 5
Syracuse Symposium's theme of "Light" continues with a special presentation by James Schmidt, a Boston University professor renowned for his expertise in European political and social thought. Schmidt's lecture, "The Limits of Enlightenment," is Thursday, Nov. 5, at 7:30 p.m. in Maxwell Auditorium on the Syracuse University campus. The event is free and open to the public. For more information, call (315) 443-7192.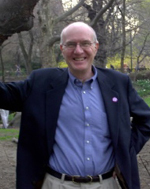 Schmidt's visit is co-sponsored by the Department of Philosophy and the SU Humanities Center, the latter of which organizes and presents Syracuse Symposium for The College of Arts and Sciences.
The Age of Enlightenment was an 18th-century movement rooted in the belief that human reason could be used to mollify tyranny, ignorance and superstition. "In the modern period, the Enlightenment has been a lightning rod for controversy," says Gregg Lambert, Dean's Professor of the Humanities, as well as founding director of the SU Humanities Center and principal investigator of the Andrew W. Mellon Central New York Humanities Corridor. "Critics from across the political and philosophical spectrum have often condemned the Enlightenment for its complicity with a number of social and cultural ills. James Schmidt brilliantly traces the evolution of this debate, touching on the nature, limits and legacy of this historical movement."
Schmidt, who is professor of history and political science at Boston University, has written extensively on the subject. He is author of "Maurice Merleau-Ponty: Between Phenomenology and Structuralism" (Palgrave Macmilliam, 1985). Also, he is editor of "What Is Enlightenment?: Eighteen-Century Answers and Twentieth-Century Questions" (University of California Press, 1996), "Theodor Adorno" (Ashgate, 2007) and "Kant's Idea for a Universal History With a Cosmopolitan Aim: A Critical Guide" (Cambridge University Press, 2009), with Harvard's Amelie O. Rorty. "Schmidt is excellently equipped, both as a scholar-historian of the Enlightenment and as a political philosopher, to address these issues," writes Rorty, calling "What Is Enlightenment?" a "classic source" for students and scholars.
At BU, Schmidt covers a wide swath of intellectual and political territory. Among his interests are the experiences of European intellectuals who sought refuge in the United States during World War II (e.g., philosopher Adorno, novelist Thomas Mann and composer Arnold Schoenberg) and the response of art and literature to major catastrophes. The former Harvard visiting professor is also director of BU's honors program.