Campus & Community
Syracuse University to dedicate Ernie Davis Hall Oct. 2
Proclamation on Ernie Davis Hall from New York State Governor David Paterson
On Friday, Oct. 2, Syracuse University will officially dedicate its newest, state-of-the-art student residence, Ernie Davis Hall, as part of the University's Orange Central celebration, which combines the rich tradition of Homecoming + Reunion. The dedication will take place at 9 a.m. and is open to the public.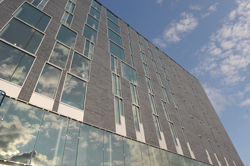 Named after the late 1962 SU alumnus—a two-time All-America selection and the first African American to win the coveted Heisman Trophy—Ernie Davis Hall welcomed its first residents in August, during SU's Opening Weekend, and is SU's first entirely new residential building in more than 40 years.
Presiding over the dedication of Ernie Davis Hall, located at 619 Comstock Ave., will be SU's Senior Vice President and Dean of Student Affairs Thomas V. Wolfe. Those in attendance will include members of the Davis family, and Orange Central co-chair and All American SU football great Don McPherson '87. SU Chancellor and President Nancy Cantor will be among the speakers, along with Suzanne Kim Chafetz '13, a first-year student and current resident of Ernie Davis Hall.
New York State provided $5 million in support for the building's construction through the Higher Education Capital Matching Grant Program. Speaking at the ceremony representing the New York State Assembly will be William Magnarelli, and representing the state Senate will be John DeFrancisco.
Following the dedication ceremony, Ernie Davis Hall resident advisors will lead public tours of the building, and refreshments will be offered.
"Ernie Davis epitomized courage, breaking barriers in so many ways," says Chancellor Cantor. "He contributed tremendously not only to student life, but made a profound and lasting impact on our nation and the world. By naming our new 21st-century residence hall in Ernie's honor, we aim to inspire future generations of SU students to live by his example, to reach beyond their boundaries and make a real difference in the world."
Of special distinction is that Ernie Davis Hall will be the University's first "green" residence hall, constructed to meet the standards of the Leadership in Energy and Environmental Design (LEED) Green Building Rating System, which is the global standard of sustainable green building and development practices. The 140,000-square-foot project is seeking a LEED Silver rating and incorporates such sustainable features as innovative storm water management, low water-use fixtures, dining hall efficiencies to reduce food waste and hot water consumption, and advanced HVAC design to reduce air conditioning requirements.
The approximately $50 million, nine-story structure offers students a mix of room types and amenities—60 split-double units and 120 single units—with 250 beds. The split-double units are primarily for first-year students and the single units are primarily for sophomores, juniors and seniors. Additionally, Ernie Davis Hall features 2,000 square feet of academic space, to be used for class meetings or studying.
The final construction phase currently under way will complete the project at the end of this year and will provide students with a 500-seat, marketplace-style dining facility, convenience store and a 10,600-square-foot recreation facility. The tall glass exterior of the two-story dining facility will be situated along the building's Comstock Avenue face; the dining center will have 500 private and open seats and will operate from 7 a.m.-11 p.m.
Projected for greatness in the NFL, Davis was the first player selected in the 1962 draft, chosen by the Cleveland Browns to create a "dream backfield" pairing with the man whose records he had broken at SU, Jim Brown '57. But the dream never came to be. Davis was diagnosed with acute monocytic leukemia. Less than a year after the draft, he died in his sleep at Cleveland Lakeside Hospital at the age of 23. Shortly after his death, Davis' mother, Marie Davis Fleming, donated his Heisman Trophy to SU. In 1979, Davis was inducted posthumously into the College Football Hall of Fame. In September 2008, SU celebrated the release of "The Express," the Universal Pictures movie about Davis that had its world premiere at downtown Syracuse's Landmark Theatre.
Those wishing to attend the dedication may park for free at Booth Garage, at the corner of Waverly and Comstock avenues. For more information on Orange Central and an up-to-the-minute schedule of events and activities, visit http://orangecentral.syr.edu. For questions, contact the Office of Alumni Relations at 1-800-SUALUMS (782-5867) or e-mail sualumni@syr.edu.