Arts & Culture
Syracuse Symposium presents expert on iconography, visual culture Oct. 8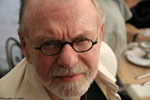 Syracuse Symposium, whose theme this year is "Light," continues with a lecture by William J. Thomas (W.J.T.) Mitchell, renowned theorist on iconography and visual culture. Mitchell's presentation, which is free and open to the public, is Thursday, Oct. 8, at 7:30 p.m. in Syracuse University's Watson Theater. The event is organized and presented by the SU Humanities Center and is funded by the Andrew W. Mellon Central New York Humanities Corridor, an interdisciplinary partnership involving SU, Cornell University and the University of Rochester. For more information, call (315) 443-7192.
"We are honored to present W.J.T. Mitchell, whose study of verbal and visual intersections is groundbreaking," says Gregg Lambert, Dean's Professor of the Humanities, as well as founding director of the SU Humanities Center and principal investigator of the CNY Mellon Humanities Corridor. "As an editor and theoretician, he champions the irreducible power of images. He believes that images are living things and cannot be fully explained with words."
A scholar and theorist of media, visual art and literature, Mitchell is associated with the emergent fields of visual culture and iconology (i.e., the study of images across the media). He is known especially for his study of visual and verbal representations in social and political issues from the 1700s to the present. "My work explores the relations of visual and verbal representations," says Mitchell, professor of English and art history at the University of Chicago. "As a teacher, I try to encourage students from a variety of disciplinary locations to think about such topics as space, place and landscape; fetishism, totemism and idolatry; violence and representation; and the arts of memory."
At Chicago, Mitchell also edits Critical Inquiry, an interdisciplinary journal devoted to critical theory in the arts and human sciences. Under his leadership, the journal has devoted special issues to an array of topics, including public art, psychoanalysis, pluralism, feminism, the sociology of literature, canons, race and identity, narrative, the politics of interpretation and postcolonial theory.
Mitchell is the recipient of numerous honors and awards, including the Guggenheim Fellowship and the Morey Prize in art history, awarded by the College Art Association of America. In 2003, he received the University of Chicago's prestigious Faculty Award for Excellence in Graduate Teaching. He has written more than a dozen books, including "The Late Derrida" with Arnold Davidson (University of Chicago Press, 2007), and has published numerous articles and reviews in scholarly publications. Translations of his work have appeared in French, German, Dutch, Danish, Swedish, Chinese and Japanese.
Located in the historic Tolley Humanities Building, the SU Humanities Center is home to the Mellon CNY Humanities Corridor, Syracuse Symposium, the Jeanette K. Watson Distinguished Visiting Professorship in the Humanities, and various scholarly initiatives. Mitchell's appearance coincides with "Visual and Cultural Studies: The Next 20 Years," a Mellon CNY Humanities Corridor conference at the University of Rochester Oct. 8-10.
Syracuse Symposium is an annual intellectual and artistic festival organized and presented for SU's College of Arts and Sciences by the SU Humanities Center. This year's festival explores the protean meaning of light, in all its senses and myriad of forms, through music, dance, the visual arts, philosophy, science and religion. The festival also attempts to bring new meaning to light through an array of lectures, performances, symposia and special events.