Arts & Culture
Syracuse Architecture AIAS students launch 'Freedom by Design' program to serve area's elderly, disabled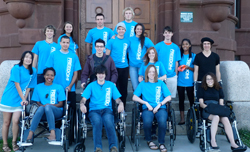 The Syracuse chapter of the American Institute of Architecture Students (AIAS) announces the launch of "Freedom by Design" (FBD) at the Syracuse University School of Architecture.
FBD is a nationally based student-run initiative that utilizes the talents of architecture students and those in related fields. Volunteers come together to design and build small-scale projects that help individuals at the local level faced with physical, mental and/or financial challenges. FBD projects range from door knobs to ramps to complete renovations, and are designed to allow individuals to live in a safe environment, with a sense of dignity and comfort becoming any individual of the community.
The group celebrated its launch on Sept. 19 with a Wheelchair Accessibility Tour awareness event. Attendees were either blindfolded or pushed in a wheelchair around the SU campus and gained first-hand perspective on the impact of building/campus design decisions on physically challenged individuals.
The Syracuse FBD is currently seeking clients in need of help, as well as partners within the local area who will collaborate with the FBD group to help them carry out their mission. Under the guidance of Syracuse Architecture faculty acting as mentors, volunteer teams will be guided through each design process, critiqued on design solutions and receive guidance on the creation of construction documents. Opportunities exist to collaborate with local builders, design firms and other community resources to achieve team goals. All projects will be designed, built and funded by the student organization.
"This is a great opportunity for our students to have hands-on experience with design and construction that will impact the lives of people in our community. Our hope is that it will also open people's eyes to the importance of implementing accessibility into everyday building design," says Chris DePalma, second-year Syracuse Architecture student and Freedom by Design founding chair.
FBD started at a grassroots level in 1999, based on the vision of Denver architect Brad Buchanan. Within four years the organization completed more than $300,000 of built construction. In 2003, it officially aligned with AIAS on the national level. As of 2009, the FBD program has grown to include students in 56 universities and communities in the United States and Canada.
For more information or to get involved, visit http://aias.syr.edu or email freedom.aias.syr@gmail.com.