Arts & Culture
SU celebrates life of poet, professor Hayden Carruth Sept. 12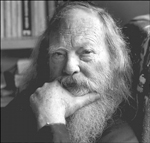 A celebration of the life of the late Hayden Carruth , acclaimed poet, critic and editor, is being organized by Syracuse University. Friends and colleagues of the former SU English professor are coming together on Saturday, Sept. 12, at 2 p.m. in SU's Rose and Jules R. Setnor Auditorium for an hour of readings and music, followed by a reception.
The event, which falls nearly a year after Carruth's death, is free and open to the public. Parking is available in the Quad 1 lot between Crouse College and Hendricks Chapel.
For more information, call SU's Department of English, which is co-sponsoring the event with the M.F.A. Program in Creative Writing, at (315) 443-3755. The M.F.A. program is part of the English department, which is housed in The College of Arts and Sciences.
SU English professor and poet Brooks Haxton G'82 is organizing the hour-long celebration. He and six others will read selections by their friend, who taught in SU's creative writing program during the 1980s. Readings will be interspersed by recordings of classic jazz, which Carruth adored and wrote fervently about in his poetry and prose. "Given his mordant sense of humor, the recordings will include [the 1930 standard] 'Please Don't Talk About Me When I'm Gone,'" says Haxton, adding that much of Carruth's verse had an improvisational energy to it.
Carruth died Sept. 28, 2008, at his home in Munnsville, N.Y., after a series of strokes. He was 87.
Known for his forceful observations, Carruth was one of the most versatile writers of his generation. "He had a greater variety of poems than almost anybody," poet Galway Kinnell told The New York Times last fall. "He was interested—super-interested—in everything, and he could write about anything." Among the topics Carruth addressed in his novel, "Appendix A" (Macmillan, 1963), and in his nearly 30 books of poetry, essays and criticism were madness, loneliness, death and the fragility of the natural world.
Carruth began public life as a writer in the 1950s at The University of Chicago, where he edited Poetry magazine and worked at the University of Chicago Press. Following stints in New York and Connecticut, Carruth settled down in Vermont, where he contributed to numerous publications, including The New Yorker and Parisian Review, and guest-edited Harper's Magazine and The Hudson Review. He also saw into the future by embracing the past. "Carruth became one of the foremost advocates in poetry of the ecological and cultural values preserved by small-scale farming in the age of agribusiness," notes Haxton.
As volumes of poetry poured forth, Carruth left Vermont in 1979 to teach in SU's creative writing program. For nearly a decade, he taught many aspiring authors and poets, including Haxton, and subsequently produced some of his finest work, including "The Sleeping Beauty" (Copper Canyon Press, 1982), a poem consisting of 124 sonnet-like stanzas, and the collection "Scrambled Eggs and Whisky" (Copper Canyon Press, 1996), which won the National Book Award for Poetry. Carruth also received the Bollingen Prize and fellowships from the Lannon, Ruth Lilly and Guggenheim foundations, among other honors.
"His poems stand among the indelible accomplishments in the history of American letters," observes Haxton, "for their prosodic beauty; for their range, precision and substance of thought; their narrative skill; comic ebullience; verbal variety; precision; and, above all, for the passionate empathy that all their virtues serve."