Media, Law & Policy
Students to document life in Skaneateles during annual multimedia workshop sponsored by SU's Newhouse School
Some 40 multimedia (photography, video, audio and writing) students from Syracuse University's S.I. Newhouse School of Public Communications will turn their attention to the local town of Skaneateles this month, spending the weekend of Sept. 25-27 getting to know the community during an annual multimedia and photo workshop sponsored by the school's Department of Visual and Interactive Communications (VIC).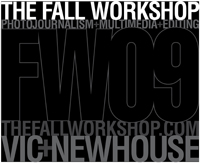 The students will document life in Skaneateles not only by shooting photographs, but also by recording sound, writing stories and shooting video. Ultimately, they will publish their work—online, in The Post-Standard and in a student-produced book.
"For many Newhouse students, the workshop is a pivotal point in their education," says Bruce Strong, associate professor of VIC and the current workshop director. "They are able to 'learn by doing.' Some learn through their mistakes and others through their successes, but all of them grow in numerous ways throughout the weekend. It's a real world, real time exercise."
The students will work out of the Skaneateles Firehouse, where 20 journalists from across the country will be on hand to offer advice and guidance. "The students get to interact with some of the best professionals in the field," says Strong. Participating journalists include Emmy Award winner Tom Kennedy, the former managing editor of multimedia for Washingtonpost.com and the former director of photography for National Geographic magazine; Bert Fox, director of photography for the Charlotte Observer and former picture editor for National Geographic; as well as multimedia editors from the Newark Star-Ledger and the Roanoke Times and photographers and editors from The New York Times, the Seattle Times and the San Antonio Express-News. Many of them are Newhouse alumni who participated in similar workshops when they were students.
Each student will complete at least one story, capturing a visual record of the Skaneateles community. Several of the stories will be published in The Post-Standard, and all of the student work will appear online at http://www.thefallworkshop.com. In addition, graphic design students will produce books (Blurb.com) featuring the students' work, due for release in 2010.
The students will hold a community presentation on Saturday, Sept. 26, at 8 p.m. at Waterman Elementary School in Skaneateles.
For more information about the workshop, contact Mary Buttolph at (315) 857-5224 or mebeatty@syr.edu.