Social Work professor showcases Mexican folk art exhibit
"Guelaguetza!," an exhibit of photographs by Alejandro Garcia, professor in the School of Social Work in the College of Human Ecology, is currently on display at Mundy Library, 1204 S. Geddes St., Syracuse. This exhibit will be on display through Oct. 31. Library hours are Monday, Thursday, Friday and Saturday, 9 a.m.–5 p.m., and Tuesday and Wednesday, 9 a.m. –7 p.m. A special artist's reception will be held on Sept. 16 from 5–7 p.m.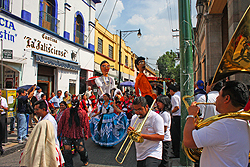 The exhibit is named after the annual festival in the southern state of Oaxaca that brings together people from the seven major areas of the state. Originally, it celebrated the good harvest and rain, and honored the goddess of corn, Centeotl. With the conversion to Christianity, the natives now use it to celebrate Our Lady of Mt. Carmel (La Virgen del Carmen). Each of the regional groups comes to the celebration with its unique and colorful costumes and native dances, and shares its harvest of mangoes, bananas and other tropical fruits with the audience.
Garcia's photographs not only include dancers from the various regions of Oaxaca, but also candies, mezcal (a liquor similar to tequila), meats and cheeses, traditional foods and toys that are ubiquitous during the fiesta. The photographs were taken in pre-Guelaguetza festivities in Mexico City. Garcia is a longtime student and collector of Mexican folk art and exhibit his collection at the Community Folk Art Center in January 2010.
For more information on the exhibit, contact Janet Park, branch manager at Mundy Library, at (315) 435-3797 or jfpark@onlib.org.