Arts & Culture
Singapore professor examines light and religion Oct. 1 at Syracuse Symposium
Lily Kong, a world-renowned expert on religiosity and spatiality, will speak at Syracuse University on "Light and the Sacred," Thursday, Oct. 1, at 7:30 p.m. in Watson Theater. Her presentation is part of Syracuse Symposium, whose theme this year is "Light," and a three-day conference titled "Place/No Place: Spatial Aspects of Urban Asian Religiosity," presented by The Andrew W. Mellon Central New York Humanities Corridor. For more information about the lecture, which is free and open to the public, call (315) 443-7192 or visit the Syracuse Symposium website.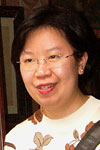 Kong, who is a geography professor at the National University of Singapore (NUS), will explore the literal and symbolic roles of light in religious experience. "Whether light takes the form of the sun, moon, fire, flame or ray, or manifests itself through color, the absence and presence of light signifies the profane and sacred," she writes. Specifically, her presentation will examine the orientation, color symbolism and role of fire and purity in religious buildings, as well as the interplay of light and shadow in religious expression.
Kong's lecture is co-presented by the Department of Religion in SU's College of Arts and Sciences and the Mellon CNY Humanities Corridor, an interdisciplinary partnership involving SU, Cornell University and the University of Rochester. Lecture organizers are professors Joanne Punzo Waghorne and Ann Grodzins Gold and assistant professor Gareth Fisher, all in SU's religion department.
"We are honored to present Lily Kong, one of today's leading scholars of Asian religion and spatiality," says Gregg Lambert, Dean's Professor of the Humanities, as well as founding director of the SU Humanities Center and principal investigator of the Mellon CNY Humanities Corridor. "At SU, she will explore how social, physical and mental spaces are created by shifting religious ideologies."
At NUS, Kong also serves as vice president for global relations and as director of the Asia Research Institute. She is the recipient of seven major academic awards, including this year's Robert Stoddard Award for Distinguished Service, presented by the Association of American Geographers. In addition to serving as editor of Dialogues of Human Geography and Social and Cultural Geography, Kong is on the editorial boards of four other key organizations and has served on two dozen others throughout her career. Kong has taught and written extensively about geographies of religion, cultural economy and cultural policy, constructions of nation and national identity, and constructions of nature and environment.
Located in the historic Tolley Humanities Building, the SU Humanities Center is home to the Mellon CNY Humanities Corridor, Syracuse Symposium, the Jeanette K. Watson Distinguished Visiting Professorship in the Humanities and various scholarly initiatives. More information about "Place/No Place: Spatial Aspects of Urban Asian Religiosity," running Oct. 1-3, is available at http://mellonplaceconf.syr.edu/index.htm.
Syracuse Symposium is an annual intellectual and artistic festival organized and presented for SU's College of Arts and Sciences by the SU Humanities Center. This year's festival explores the protean meaning of light, in all its senses and myriad of forms, through music, dance, the visual arts, philosophy, science and religion. The festival also attempts to bring new meaning to light through an array of lectures, performances, symposia and special events.